Alan Gallo, BS 1987, MBA 1990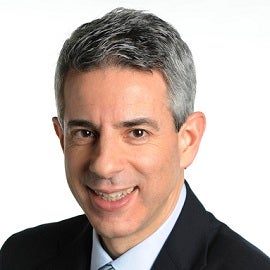 Alan Gallo is Executive Vice President of the Enterprise Strategic Initiatives group at American Express. He oversees key operational challenges and strategic projects that cut across the enterprise, working closely with the CEO, the CFO, and the executive team to implement transformation initiatives and assist the company in allocating resources. Alan also serves as a key advisor to the Company's Operating Committee on strategic and financial matters.

On the personal front, Alan loves to run and is proud to have completed the New York City Triathlon. Alan resides in Brooklyn with his wife Christine, son Andrew, and daughter Caroline.
If you could visit any place in the world, where would you choose to go, and why?
I'd love to visit somewhere in the South Pacific, where I can lay on a beach hammock and enjoy the island's warm breeze. Although I have never been to that area, it is definitely on my bucket list of places to visit.
What is your favorite way to spend a Saturday?
We can all agree that the best Saturdays are those when you aren't startled awake by an alarm clock. After waking up, I enjoy going for a jog outside and spending time at the beach.
What is your favorite seasonal activity?
Attending baseball games in the summer to see the Mets play at Citi Field! Despite the fact that they are suffering this season, I still enjoy watching my favorite team. Let's Go Mets!
What is your favorite memory from your time at Stern?
Meeting the woman who would eventually become my wife in an undergraduate freshman writing class is my favorite and best memory from Stern.
Why do you choose to stay engaged with Stern as an alumnus?
I stay engaged because the experiences I have been gifted both at Stern and because of Stern have played a big part in shaping the person I have become, both professionally and personally. Stern is a big part of my identity, and staying connected with the School is very fulfilling for me.
What quote most inspires you?
"If success or failure of this planet and of human beings depended on how I am and what I do…How would I be? What would I do?"
~ R. Buckminster Fuller
---