Gwen Melnyk, MBA '15
Associate, Jefferies Finance LLC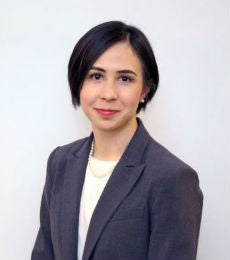 While working as a chemical engineer in pharmaceutical research and development, Gwen Melnyk looked for ways to advance within the healthcare space. She soon realized that having an MBA—and the skills it represents—was essential for where she wanted to go with her career. "When I started looking at positions I was interested in, it wasn't enough to have a masters in science," she says.

So Melnyk researched MBA programs and ultimately decided on NYU Stern's Langone Part-time MBA program in Westchester. "The School has a highly recognizable name," she says, and the location was convenient, since she lives in Westchester and her office was 15 minutes away. An added benefit was that the Westchester campus is a "close knit community where everyone is supportive and collaborative," said Melynk, who added that students in her classes got to know each other well.

Tapping the Stern network
As soon as she started the program, Melnyk engaged in the wider Stern community by joining clubs, attending conferences and networking at happy hours. She also utilized the Career Center for Working Professionals to help develop her professional skills.

As a new MBA student with a chemical engineering background, Melnyk tapped into the Stern alumni community to learn about the business fields that could help her achieve her professional goals. "I reached out through LinkedIn and met alumni at networking events, and everyone seemed happy to help in any way they could," she said.

Defining a new career path
From all of the data she collected, Melnyk decided to pursue a career in corporate finance, and accepted an offer from Jefferies, a global investment bank. She feels confident in her new skills, and also credits the alumni she met for helping launch her new career. "The Stern network has been invaluable," said Melynk. "Now that I'm an alumna, I plan to stay involved with Stern as much as I can. The network is a powerful resource that I'm sure I'll tap into in the future."

Advice for future MBA students
Melnyk believes her success came from keeping an open mind throughout the MBA process and not being afraid to reach out to others in the Stern community for advice. With the addition of skills gained in the classroom, these two factors played major roles in helping her figure out her key assets and use them to propel her career.