2010 BSP News Archive

NYU Stern MBA Team Wins 3rd Place in Aspen Case Competition
On May 6, 2010, a team of NYU Stern MBA students – Stephanie Grodin, Elizabeth Holt, Marni Kruppa and Andres Satizabal – competed in the finals of the 2010 Aspen Institute Business & Society Case Competition. Each year, the competition brings together teams from 25 top international business schools to tackle today's management challenges in the areas of business ethics and social responsibility.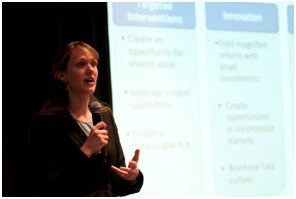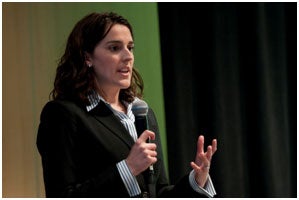 Elizabeth Holt (left); Marni Kruppa (right)
Charged with developing a 10-year plan on corporate sustainability for the Tata Group, a multinational company headquartered in India, the Stern team presented their proposal in front of a panel of judges from Fortune 500 companies and an audience of more than 100 spectators, winning the third place prize of $5,000. First and second place prizes were awarded to teams from the Weatherhead School of Management at Case Western Reserve University and the Mendoza College of Business at the University of Notre Dame respectively.
"The challenge was daunting at first, but after some dialogue, our team was able to put together a framework of key strategic ideas that carried us through the competition," explains Elizabeth Holt, member of the Stern team. "This year, I will be stepping into a new role at a strategy consulting firm, and participating in this competition was great practice for working in a team, and for devising a strategy and presenting a plan to a client. Plus, each member of our team walked away with prize money, which was very exciting!"
---
NYU Stern School of Business Named Winner in Prestigious Aspen Institute Business & Society Case Competition
May 7, 2010
How can business leaders balance the need for business growth while being responsive to the social and environmental needs of the communities in which they operate? That was the issue business students from 25 leading international business schools responded to in a new, complex case study addressing today's international management challenges, based on the experiences of The Tata Group, a multinational company—and India's largest business group—operating in seven business sectors.
The NYU Stern School team presented to a panel of judges from Fortune 500 companies as well as an audience of over 100 business, nonprofit and academic attendees on Friday evening, April 30th, at the W New York hotel in midtown Manhattan. The Leonard N. Stern School of Business was one of five school teams that were flown to New York for the final round of judging. The five winning schools were:
The Weatherhead School of Management, Case Western Reserve University
Mendoza College of Business, University of Notre Dame
Leonard N. Stern School of Business, New York University
School of Business and Economics, University of Jyväskylä (Finland)
Kellogg School of Management, Northwestern University
The Leonard N. Stern School of Business placed Third and received a prize of $5,000.
The presentation and award reception are the culmination of a process that began in early April with on-campus competitions at the 25 schools to determine first place campus winners. Their work was then reviewed by a group of academic judges to determine the final five teams.
"As a Tata representative, I was impressed by all the teams' grasp of the essential Tata core values, and our need to maintain a commitment to society while growing globally," said David Good, chief representative-North America. "I am proud that Tata was chosen as the Aspen case study this year and encouraged by the several excellent ideas that grew out of the competition."
The case competition, the largest focusing on social, ethical and environmental issues, is sponsored by The Aspen Institute Business and Society Program, whose mission is to equip business leaders for the 21st century with a new management paradigm—the vision and knowledge to integrate corporate profitability and social value.
"What current business students learn about the complex relationship of business and society, facilitates the changes we need to grow and thrive as a global community," says Judith Samuelson, Executive Director of the Aspen Institute Business and Society Program. "We are inspired by the work presented by these 20 students today. It demonstrates their business schools' commitment to teaching thoughtful and long-term business strategies that balance the needs of a wide range of stakeholders."
The Aspen Institute Business and Society Program has sponsored a case competition since 2002. This year's competition, with a record number of participating schools, is sponsored by:
Deutsche Bank
Humana
ING
Levi Strauss & Co.
L'Oréal
Motorola Foundation
NBC Universal
Verizon
To read the winning school's responses to this year's case study, please go to
www.AspenCaseCompetition.org
.
The Aspen Institute Business and Society Program is dedicated to developing leaders for a sustainable global society. Through dialogue and path-breaking research, it creates opportunity for executives and educators to explore new pathways to sustainability and values-based leadership. Founded in 1950, the Aspen Institute is an international nonprofit organization that fosters enlightened leadership, the appreciation of timeless values and ideas, and open-minded dialogue on contemporary issues.
For information on other Aspen Institute Business and Society Programs, go to
www.aspencbe.org
.