Faculty Spotlight
Prof. Robert Wosnitzer explores the effect of complex social relationships on trade execution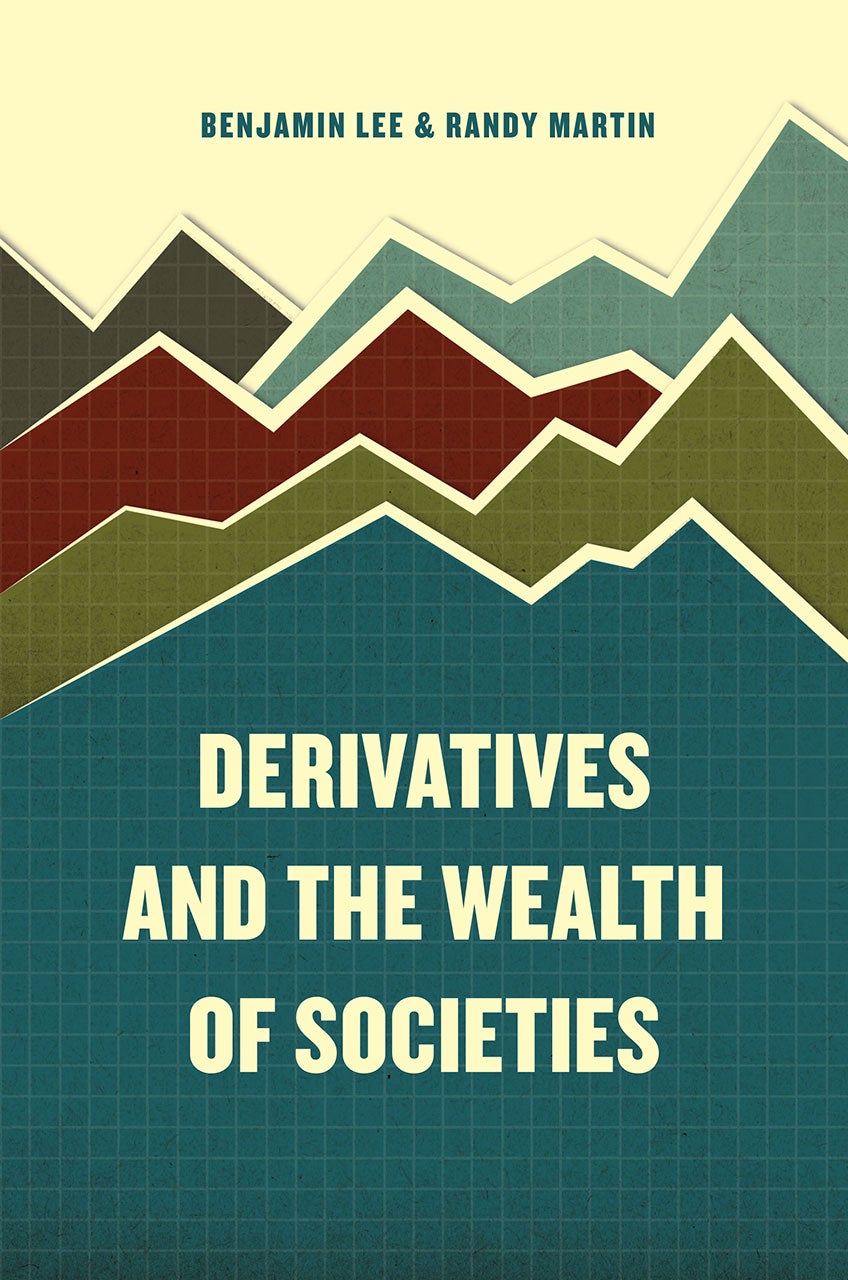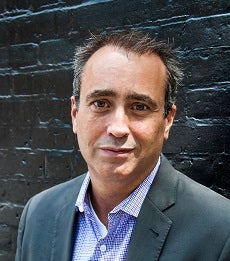 As a contributing author, Professor
Robert Wosnitzer
explores the effect of complex social relationships on trade execution and derivative value in a new book which seeks to construct a renewed vision of derivative finance as embedded not just in our economics but our culture.
Excerpt from the summary - "...the contributors to this book draw upon their deep backgrounds in finance, social science, art, and the humanities to create a new way of understanding derivative finance that does justice to its social and cultural dimensions. They offer a two-pronged analysis. First, they develop a social understanding of the derivative that casts it in the light of anthropological concepts such as the gift, ritual, play, dividuality, and performativity. Second, they develop a derivative understanding of the social, using financial concepts such as risk, hedging, optionality, and arbitrage to uncover new dimensions of contemporary social reality..."
Read more
---

Professor Susan Stehlik shares advice for managers on giving effective feedback



Excerpt from The Economist -- "Stehlik recommends a simple exercise you can do on a regular basis to clarify your own intentions toward those around you. Draw a dial spanning from empty to full, like a fuel gauge. Write down the names of all the people in your inner circle: your direct reports, spouse, friends – even your boss. Next, evaluate where each person's gas gauge is at. Do they seem like they're a bit depleted? Running on empty? Now ask yourself: What can I do to bring this person's gauge to full? The best, most effective feedback comes from this genuine desire to help others.
Read more
---

What Is Leadership Presence
Professor Susan Stehlik argues that leadership presence is more than a characteristic or learned quality, but can instead speak to the essence of a person; after all, "we're all leaders in the action or task that we're approaching."
To see the video, check out the link here.
---



Management Communication Professors Nominated for Teacher of the Year
Professor Diane Lennard (Clinical Associate Professor of Management Communication) and Professor Ronni Burns (Adjunct Assistant Professor of Management Communication) have been nominated by the MBA students as Teacher of the Year.

Quotes from student submissions:

Diane Lennard - "She provides extremely useful feedback which has really helped me communicate effectively."

Ronni Burns - "Her lectures are very well prepared and practical in real life situations. She also spends a lot of time after class giving students personalized feedback and individual attention, really helping students excel in communication and business presentation."
---
On the Job: Post Secondary Teacher
The Stern Undergraduate College's programs in social entrepreneurship, social impact and business responsibility were highlighted in a video produced by Houghton Mifflin Harcourt about the work of Professor Robert Lyon (Assistant Clinical Professor in Management Communications).
The video was broadcast to high schools through HMH's educational channel, and has now been published on their CliffsNotes site in a section called "On the Job."

It also includes Stern UG students Abigail Lyall, Sophie Frank, Danielle Bennett and Ethan Fang talking about the social entrepreneurship projects they initiated in their freshman year at Stern.


Quotes from the video:
"Business … is the application of all sorts of academic fields. Technology, sales, communication: business has put all that together to bring things to people."
"It's really about being interested in your students: being able to relate to them and being able to communicate important ideas in ways they can understand."
"As a teacher, my goal is just to enable students to accomplish great things. Education is such a great tool to solving social problems."
---
Stern Faculty Affairs Newsletter - May 2015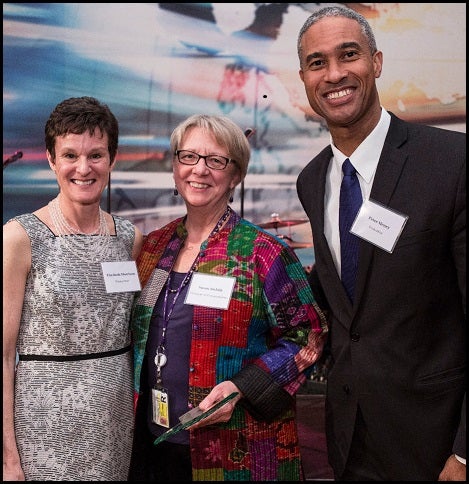 Susan Stehlik's service to Stern is notable both in scope and breadth. She began teaching in Stern's Management Communication Program as an adjunct professor in 1999, and joined the full-time faculty in 2007. Susan was elected to serve on NYU's newly established Full-time Non-tenure Track Faculty Senator's Council and also serves on the University's Finance and Planning Committee and the University's Benefits Committee. Within Stern, she serves on the CITL Faculty Advisory Committee, which is responsible for identifying and reviewing technology in the classroom. She is also a regular judge of case competitions for the Berkley Center, L'Oreal Brand Storm and Price Waterhouse, and has been a speaker at the Stern Women in Business conference.

On top of all that, Susan played an instrumental role last year in organizing a group undergrad and graduate Stern women students to write a white paper on the Women's Empowerment Principles of the United Nations Global Compact, which were presented to the Women's Leadership Summit at the UN and at the annual Summit of International Business & Professional Women in South Korea.
---

STERNbusiness Alumni Magazine:
Bringing Back an Old Standard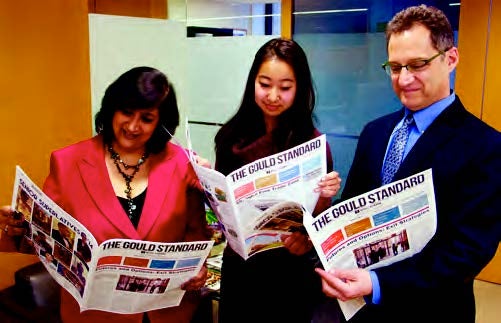 The Gould Standard, Stern's undergraduate student newspaper, was founded during the spring 2012 semester. However, it embraces a medium whose demise has been predicted for several years. Maria Xing (BS '15), the newspaper's editor-in-chief, said that although The Gould Standard is available online, the newspaper's executive board felt it was important that the publication was available in print as well.

The idea was conceived by Lin Ling (BS '14), the paper's first editor-in-chief, while she was having lunch with Stern Undergraduate College Dean Geeta Menon in her junior year, together with several other students. Ling thought that The Gould Standard would be a great way for her peers to feel a sense of pride about Stern. Dean Menon encouraged Ling and her friends to investigate whether there was traction for this idea.

In the fall 2014 semester, Stern Professor Jeffrey Younger joined The Gould Standard as its faculty adviser. He has helped the newspaper's executive board take steps to develop long-term strategies to ensure The Gould Standard's longevity, especially as the current executive board graduates over the next few years, and also advises on editorial strategy. "One of my goals has been to encourage students to move from summary to analysis in their writing," said Younger, who teaches management communication at Stern. Read More >>
---

an Adjunct Instructor in the Management Communication Program, recently became a finalist in Taproot Foundation's "Make it Matter Challenge." Over 150 teams submitted ideas to help more nonprofits take advantage of quality pro bono resources. Brian and his teammate, Jonathan Chen, made it to the final four, traveling to LinkedIn's headquarters in Mountain View, CA to pitch their idea. Judges included LinkedIn's former Executive Chairman and co-Founder Reid Hoffman as well as other top executives in the social impact sector. Over 400 individuals from nonprofits and donor organizations were also in attendance.

Professor Hanssen believes that funding the staff time to manage pro bono projects keeps many nonprofits from taking full advantage of available resources. He proposed integrating an existing crowdfunding platform with popular pro bono provider sites, such as Taproot's Marketplace and LinkedIn's pro bono pages, allowing nonprofits to cover necessary costs and develop talent before even kicking off the engagement. Donors, providers, and beneficiaries become more interconnected, increasing accountability and raising awareness for nonprofits that are making smart use of resources.

Professor Hanssen and his teammate were runners up in the final competition, receiving funding and guidance from Reid Hoffman along the way. They are currently in discussions with partners on how to move the idea forward.
---
a Clinical Associate Professor in the Management Communication Program, was interviewed by Batterii after the Front End of Innovation (FEI) conference. In the interview, "Why You Must Practice Innovative Thinking to Be Great At It," Professor Wolff "suggests 3 exercises to improve your ability to think innovatively and to increase your chances of finding breakthrough ideas." Read More >>

Excerpt:
"I ask people to use very basic materials, extremely basic actually," explains Wolff. At this year's FEI conference, Wolff's workshop with innovation leaders used minimal materials such as construction paper, clay to use for glue, and a straight edge ruler to cut paper.

"The point is to try and explore the material that you're using." By encouraging people to experiment and see what it's like to prototype with disposable materials in particular, people are likely to become much more comfortable with the idea of creating something that can be thrown away. "You can just tear it up, start over, and reuse it," explains Wolff.

The practice is powerful in creating an environment where there is no penalty involved. Instead of fear of failure or doubt, the exercise can be lighthearted, and individuals can get a sense of the fast pace that comes with prototyping—a pace they might not be comfortable with at first.