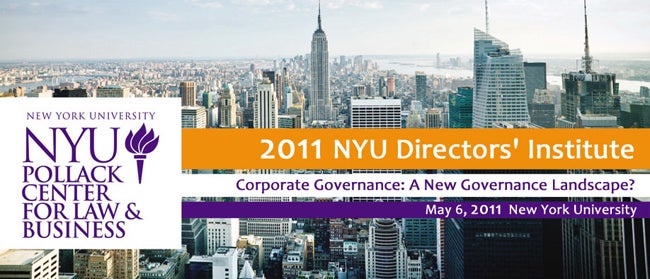 2011 DIRECTORS' INSTITUTE
FRIDAY, MAY 6th, 2011
NEW YORK UNIVERSITY

Link to Brochure
CORPORATE GOVERNANCE: A NEW GOVERNANCE LANDSCAPE?
8:15 a.m. REGISTRATION AND BREAKFAST
8:30 a.m. WELCOMING REMARKS
Richard Revesz, Dean, NYU School of Law
8:35 – 8:45 a.m. OVERVIEW OF CURRENT DEVELOPMENTS
William R. Berkley, Chairman and CEO, W. R. Berkley Corp.
8:45 – 9:30 a.m. UPDATE ON THE ECONOMY FROM THE NEW YORK FED
Joseph S. Tracy, Executive Vice President and Director of Research, Federal Reserve Bank of New York
9:30 – 10:15 a.m. FIRST PRINCIPLES AS AN ANTIDOTE TO PROSECUTION
Preet Bharara, US Attorney, Southern District of New York
10:15 a.m. – 11:30 a.m. ASK MARTY LIPTON: CORPORATE LAW & GOVERNANCE Q&A
Chair: William T. Allen, Director, NYU Pollack Center for Law & Business
Panelist: Martin Lipton, Senior Partner, Wachtell, Lipton, Rosen & Katz
11:30 a.m. – 1:00 p.m. CORPORATE M&A IN THE BOARDROOM
Chair: Mark Gordon, Partner, Wachtell, Lipton, Rosen & Katz
Panelists: Peter Crnkovich, Managing Director & Chairman of Global Healthcare, Morgan Stanley
David Harding, Senior Partner & Leader of Global Corporate M&A Practice, Bain & Co.
1:00 – 2:30 p.m. LUNCH WITH KEYNOTE:
A JUDICIAL DIGESTIVO: SOME TIPS ON AVOIDING HAVING STOCKHOLDERS, THE BUSINESS PRESS, AND JUDGES LIKE ME WRITE STOMACH-CHURNING, HEAD-SEARING THINGS ABOUT YOU!
Introduction: Peter Blair Henry, Dean, Leonard N. Stern School of Business
Keynote: Honorable Leo E. Strine, Jr., Vice Chancellor, Delaware Court of Chancery
2:30 – 3:30 p.m. AUDIT COMMITTEE IN TIMES OF CRISIS
Chair: Ruby Sharma, Partner, Ernst & Young
3:30 – 5:00 p.m. COMPENSATION ISSUES FOR BOARDS
Chair: Jeremy Goldstein, Partner, Wachtell, Lipton, Rosen & Katz
Panelists: Linda Fayne Levinson, Director, Jacobs Engineering Group, DemandTec, Inc., Ingram Micro, Inc., NCR Corp., The Western Union Company
Raj L. Gupta, Senior Advisor, New Mountain Capital; Director, Hewlett-Packard Co., Tyco, The Vanguard Group