Research Center Events
Center for Global Economy and Business Hosts Jerome Powell, member of the Board of Governors of the Federal Reserve System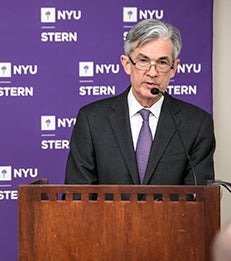 On February 18, the NYU Stern
Center for Global Economy and Business
, led by Professor
Kim Schoenholtz
, welcomed Jerome Powell, member of the Board of Governors of the Federal Reserve System, for a discussion and Q&A session. Dean
Peter Henry
introduced Governor Powell to the student and faculty audience.
Governor Powell, in his presentation, "Financial Institutions, Financial Markets and Financial Stability," summarized the extensive financial reforms related to large, global systemically important banks, critical financial infrastructure and money markets. He also discussed financial stability in the context of credit markets, noting that regulatory progress in this area is more of a challenge.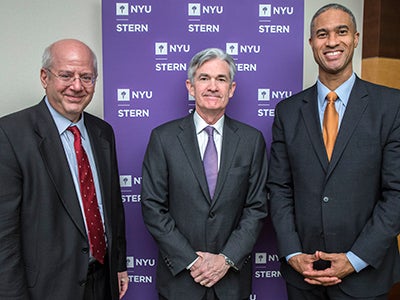 (from left to right) Professor Kim Schoenholtz, Governor Jerome Powell and Dean Peter Henry
Read the full remarks on the
Federal Reserve website
.