Student Club Events
NYU Stern Private Equity Club 10th Annual Conference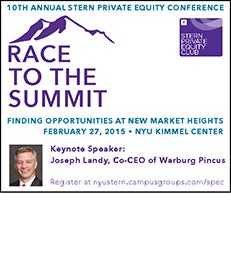 Date
: Friday, February 27, 2015
Location
: NYU Kimmel Center, 60 Washington Square
On Friday, February 27, the NYU Stern Private Equity Club will host its 10th Annual Stern Private Equity Conference. Titled, "Race to the Summit: Finding Opportunities at New Market Heights," the conference will provide a forum for industry leaders to examine key trends in private equity through keynote speeches and eight panels. The panel discussion topics are: Emerging Markets, Energy, Healthcare, LBO, LPs and Secondaries, TMT, Real Estate, and Venture and Growth Capital.
Confirmed speakers include:
Joseph Landy, co-CEO - Warburg Pincus (Keynote Speaker)
Ian Sigalow, co-Founder - Greycroft Partners (Keynote Speaker)
Ameya Agge, principal - Apax Partners
Andrew Caspersen, managing director - Park Hill Secondary Advisory Group
Jordan Cooper, partner - Lerer Hippeau Ventures
Tom Edelman, founder & Managing Partner - White Deer Energy
John Elton, partner - Greycroft Partners
Ethan Falkove, managing director - Neuberger Berman
Matt Krna, partner - Softbank Capital
Paul Lanna, principal - Coller Capital
John Leone, managing director - PineBridge Investments
Michael McMahon, founding partner & managing director - Pine Brook Partners
Patrick McGinnis, founder - Dirigo Advisors
Herbert Quan, head of power principal investing, vice president - Castleton Commodities International
Kapila Ratnam, principal - NewSpring Capital
Brian Regan, general partner - Welsh, Carson, Anderson & Stowe
David Rubenstein, senior managing principal - Rubenstein Partners
David S. Wachter, managing director - W Capital Partners
For more information or to register, visit the
conference website
or
purchase tickets directly
.