Tales in Possible
Build Possible
Part-time MBA student Mark Alex Maidique, AIA, applies concepts from Stern classes in Westchester to his local kitchen and cabinetry design business.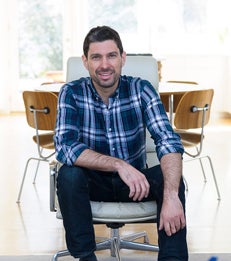 Here at Stern, I'm expanding my technical mindset to incorporate other perspectives, and I'm re-branding myself as a business professional – an important chapter in my career.
Part-time MBA student Mark Alex Maidique always knew he wanted to be an entrepreneur. Racing to secure his architecture license after earning a bachelor's degree from Cornell, Mark started his own architecture company early in his career. After nearly 10 years in the business, designing houses, office buildings, developments and commercial projects, as well as a stint in construction management, he was ready for a change.
Following his instincts, Mark transitioned from architectural design to owner of his own kitchen and cabinetry design business,
Wheelock Maidique
, which he co-founded with business partner, Chuck Wheelock. "The kitchen business has given me a chance to really flex my creative muscles, and I see lots of opportunity for growth," he explained. "Plus, as my Stern professors would say, it offers less exposure to liability than the traditional architecture business."
At Wheelock Maidique, Mark draws on his technical background to design and manufacture one-of-a-kind kitchens that marry aesthetics with functionality. Recognized for its innovative designs, the business has grown quickly and expanded operations from Chuck's dining room table to a design office. They reached another milestone recently, opening a full-fledged retail design showroom in the heart of Old Greenwich, CT.
"At this stage, we are transitioning from a design and sales-only organization to a business with production capacity – a big shift in our business model," Mark explains. "With that in mind, I wanted to pursue an MBA so that I could build my business acumen and network."
So far, that strategy seems to be paying off. "I'm not exaggerating when I say that every class has been directly applicable to my day-to-day work," he explains. "In my operations class, for instance, I'm learning how to increase process efficiency – something I can implement immediately at Wheelock Maidique as we bring manufacturing in-house." Similarly, Mark credits an accounting course with building his confidence in working with business financials.
"As we build our network of designers, installers and contractors, I've drawn on several models that we studied in 'Leadership and Organizations,' taught by Professor
Frances Milliken
," says Mark. "Marketing, however, taught by Professor
Bruce Buchanan
, may be the best class I've ever taken. It changed my perspective on business fundamentals, including the customer's perceived value – an important concept in the high-end kitchen design business."
When faced with the decision of where to go to b-school, Mark says it was an easy choice. "Taking time away from our growing business was not an option, so I narrowed my search to flexible part-time MBA programs in the area with great reputations," he explains. "Without question, NYU Stern was the best fit for me, particularly in light of the
luxury marketing specialization
, which is particularly relevant to my line of business."
Stern's campus in Westchester was also a big factor in Mark's decision: "As a father of three, a business owner and a professor at a nearby architecture school, convenience was critical. Being able to take classes at the Westchester campus, just 20 minutes from my showroom, is invaluable."
The diverse network at Stern is another important feature of the program, according to Mark. "At first I was afraid that everyone was going to be in finance, but that's not the case. I'm meeting individuals from a number of sectors, including healthcare, marketing and real estate – who all bring a range of unique experiences and perspectives to class. They often help me see the issues confronting me at the office in a new, helpful way."
Reflecting on the value of the MBA program, Mark describes his own personal transformation: "Here at Stern, I'm expanding my technical mindset to incorporate other perspectives, and I'm re-branding myself as a business professional – an important chapter in my career."