Tales in Possible
Transition Possible
MBA student and veteran Lindsey Melki is being mentored by NYC Mayor Michael Bloomberg as part of ABC's "Standing Up for Heroes" series.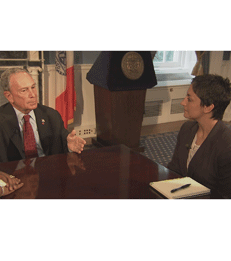 My story and theme is to serve and give back
First-year MBA student and Tillman Military Scholar Lindsey Melki piloted Blackhawk helicopters in Iraq and oversaw the basic training of thousands of US soldiers. Now she is ready for her next challenge: navigating business school and transitioning to a career in the private sector. Lindsey's journey from Operation Iraqi Freedom to NYU Stern will be featured on the ABC series "
Standing Up for Heroes
" which pairs veterans with high-profile mentors as advisors on careers in the civilian world (ABC worked with
American Corporate Partners
, a non-profit organization that assists veterans transitioning to civilian life). Lindsey's mentor is New York City Mayor
Michael Bloomberg
. "This is such a surreal opportunity to have Mayor Bloomberg as my mentor," Lindsey says. "I am excited to learn firsthand about his time in the business world along with his transition to politics."
Lindsey has been in the military arena since she was 18. She completed her undergraduate studies at West Point and, after attending flight school, served in Korea and Baghdad, earning numerous commendations. After returning from Iraq, she worked as a basic training commander at Fort Jackson, SC. "Basic training was really fulfilling," she describes. "It was an opportunity to transform 200 plus civilians into soldiers every ten weeks." After ten years in the military world, she felt ready to move on to a new chapter of life in the private sector. "Coming to Stern is the first step I'm taking as I prepare to move into the corporate realm," she explains. "I feel the army has given me the leadership experience I need. There are other areas of business in which I still have a lot to learn, and that's why I'm here at Stern."
Since arriving at Stern, Lindsey has particularly enjoyed getting to know other students: "My classmates have some really amazing life stories and I have a lot to learn from them about their lives and business experiences." She also hopes to educate her peers about her time in the armed forces and the experiences she and fellow veterans have encountered.
As she embarks on her business education, Lindsey is keeping an open mind about her career options: "One of the reasons I'm on 'Standing Up for Heroes' is to seek advice from my mentor as I determine my path." She is particularly interested in the social side of business and assisting other veterans and is excited to explore the possibility of a management position at a foundation that helps veterans. "My story and theme is to serve and give back," she explains, "and I want to go into an area of business that allows me to do so."