Grad Alley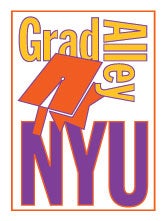 The Class of 2014, their families and their friends are invited to attend
Grad Alley
, a Commencement eve celebration marking the accomplishments of our graduates, on Tuesday, May 20, from 5:00 - 8:00 pm.
The square is alive with an air of nostalgia and excitement along West Fourth Street, Washington Square East, Gould Plaza, LaGuardia Place, Schwartz Plaza and in the Frederick Loewe Theatre and the Kimmel Center's third floor Market Place and fourth floor Eisner & Lubin Auditorium. Banners will serve as guides while you stroll down Grad Alley enjoying the entertainment as well as jugglers, mimes, Lady Liberty and more. Snacks are available while taking in the sights and entertainment.
Guests will enjoy a number of entertainment venues including
NYU Dance Fever on Gould Plaza
, where you can dance the night away or just relax to the sounds of DJ Marcus;
NYU Jazz Café in the Eisner & Lubin Auditorium
, featuring the NYU Steinhardt Jazz Orchestra with a number of special guest performances;
NYU Pep Band on LaGuardia Place
and much more.
Four Grad Alley admission wristbands
, one for the candidate and three for guests, will be included automatically with each candidate's All-University Commencement tickets ordered.
Grad Alley takes place rain or shine.
Grad Alley Wristband Pick-Up

Pick up your Grad Alley wristbands during Commencement Ticket Distribution at the Coles Sports and Recreation Center, 181 Mercer Street, between Bleecker and Houston Streets.
Tues, May 13: 11:00 am - 6:00 pm (on-time orders only)
Wed, May 14: 11:00 am - 6:00 pm (on-time orders only)
Thurs, May 15: 11:00 am - 7:00 pm
Fri, May 16: 11:00 am - 5:00 pm
Mon, May 19: 10:00 am - 4:00 pm
Tues, May 20: 10:00 am - 1:00 pm
Visit NYU's All-University
Commencement website
for information about
Grad Alley
.