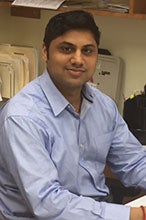 Vaibhav (Vay) Kothari, MBA 2016
Current Role:
Vice President, DiaCentre Inc.
Undergraduate:
Finance, New York University
Stern Specializations:
Finance, Management
Club Involvement:
Academic Co-Chair, Langone Student Government; Real Estate Club
---
"I think Stern's greatest competitive advantage is access to the most 'real-world' experienced faculty, by virtue of its location in downtown Manhattan. This enhances the value of the classroom experience, especially in electives. I don't know of another program that has the breadth and depth of specializations and electives that Stern is able to offer."