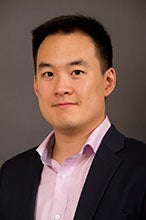 Vincent Chau, MBA 2015
Current Role:
Vice President, J.P. Morgan
Undergraduate:
Computer Engineering, University of Toronto
Stern Specializations:
Finance, Leadership and Change Management, Strategy
Club Involvement:
VP Club Affairs, Langone Student Government; Marketing Co-Lead, Stern Investment Management & Research; Asian Business Society; Management Consulting Association; Stern Golf Club
---
"The Langone curriculum was designed to be very flexible and I'm thankful for that. While maintaining an 8am to 9pm job in risk management and banking, I was able to manage my own schedule through Stern's weeknight and weekend classes. My approach was to balance classes that are valuable in the present with those for the future. For example, Value Investments with Professor Rosenwald opened up many different investment strategies that I have never considered before. In contrast, Professor Kabaliswaran's Power and Politics features carefully selected case studies, which taught me how to navigate the politics of being a senior manager. My finance professors have taught me how to be a better banker by questioning assumptions, forming my own narrative, and digging into different business drivers."