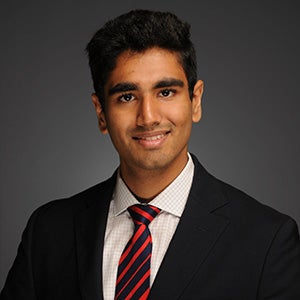 Aman Agarwal, MBA Class of 2019Undergraduate:
Computer Science Engineering, IIIT-Delhi
Pre-Stern Internship Experience:
Research Analyst Intern, EY; Research Analyst Intern, Hitachi India; Business Development Intern, ICF International; Project Head, IIIT-Delhi & AIIMS; Core Team Member, IIIT-Delhi; Business Development Intern, Excellence Engineering
Career Interest:
Finance, Technology, and FinTech
Stern Leadership:
Graduate Finance Association, Stern Technology Association, Stern Private Equity Club, South Asian Business Association, Adam Smith Society
---
"NYU Stern provides a global platform with its esteemed faculty and an international exposure. I was able to gain a lot of technical knowledge at my undergraduate university, but I wanted to learn more about leadership and entrepreneurship in a structured manner. Stern allows me to hone and further enhance these skills, learning from professionals in the industry and through the experiences gained by living in New York City. My goal of becoming a successful business professional, therefore, would not be possible without a comprehensive education gained through an MBA at NYU Stern."