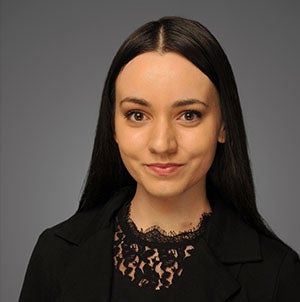 Stefani Kostadinova, MBA Class of 2019Undergraduate:
Economics and Business Administration, American University in Bulgaria
Pre-Stern Internship Experience:
Securities Broker, Adamant Capital Partners; Intern, Credit Suisse; Managed Services Intern, SAP; Strategic Finance Trainee, Telenor; Accounting Intern, Kreston BulMar
Career Interest:
Strategic Management
Stern Leadership:
Management Consulting Association, Stern Women in Business, European Business Society, Latin American Business Association, Stern Adventures, Stern Opportunity, Student Government, Adam Smith Society
---
"During my brief time at Credit Suisse, I had the opportunity to see various functional areas of the bank and I was mostly drawn to the work of people whose jobs rotated around strategy. I knew that I needed to complement my financial background with an MBA in order to be more successful in strategy and leadership. I had figured out what I wanted and I felt that I possessed the personal maturity and varied work experiences to do so right away."