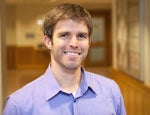 Lane Stilson, MBA 2011
Associate, McKinsey & Company
Undergraduate:
Communications, Brigham Young University
Pre-Stern work experience:
National Account Manager, Avanquest
Stern specializations:
Finance and Strategy
Stern leadership:
Vice President of the Bay Area Trek, Entertainment, Media and Technology Association; Vice President of Casing, Management Consulting Association; Co-President, OutClass
Club involvement:
Entrepreneurs' Exchange; Graduate Finance Association; Social Enterprise Association; Stern Cellar; Strategy & Operations Club
---
"I selected Stern because of its close-knit community, its location in the heart of the Big Apple, and its reputation for academic excellence. For me, those were the most important factors in selecting an MBA program and the ones that contributed the most to advancing my career. My goal was to transition to a career in management consulting, and NYU Stern provided the right environment and opportunities to help me along the way."