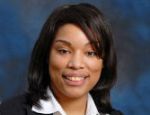 Robin Allen, MBA 2012
Senior Consultant, Deloitte Consulting
Undergraduate:
Finance, Babson College
Pre-Stern work experience:
Consultant, Deloitte Consulting
Stern specializations:
Strategy, Global Business
Stern leadership:
Graduate Ambassador; VP of Finance, Association of Hispanic and Black Business Students (AHBBS); Block Leader; Stern Cellar Member; Social Enterprise Association Member
---
"Attending Stern is one of the best decisions I have made to date. Stern has supplemented my leadership skills and changed the way I think about solutions to challenges in professional and personal contexts. I would recommend Stern to a prospective student if they are interested in having not only a tremendous academic experience in the classroom, but also learning through once in a lifetime experiences outside of the classroom. Stern programs like Doing Business In..., Stern Consulting Corps and even our Spring Break Treks allow students to apply their academic frameworks to real world situations. I am excited about what I learned at Stern and even more excited that I was able to experiment with those lessons in a more controlled environment before I graduated."