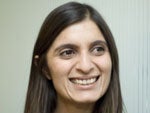 Naseem Sayani, MBA 2008
Principal, Booz & Co.
Undergraduate:
Business Economics, UCLA
Pre-Stern work experience:
Technology Consulting, IBM Global Services
Stern specializations:
Strategy, Global Business, and Operations
Club involvement:
Co-President, Stern Women in Business; Casing Director, Management Consulting Association; Emerging Markets Association
Favorite Stern Course:
Managing Growing Companies
Summer internship:
Summer Associate, Booz Allen Hamilton
---
"The Office of Career Development (OCD) was a great resource for my post-MBA career search. I came to Stern knowing I wanted to pursue strategy consulting, and OCD provided great guidance and resources to help me effectively structure my résumé, develop my "story", and prepare for behavioral and case interviews. They were always available to answer questions about the recruiting process, and they worked very hard in the years I was at Stern to further develop and deepen the School's relationship with top-tier consulting firms across the industry."