For Faculty
Faculty members can contact CITL at any point in the semester to schedule a one-on-one session on a topic of interest. Some of our current consultations feature:
Cultivation collaboration outside of the classroom
Creating effective visual presentations
Introduction to Social Media
Understanding student learning styles
Using Google Docs to collaborate with students
Teaching online
Introductions to creating engaging webinars
The CITL hosts a number of workshops throughout the year designed to raise faculty awareness of new technologies and to appropriate best practices for their use in the teaching and learning environment at Stern.
View
more information on upcoming workshops.

CITL hosts a Dean's Seminar each semester. The topic for Spring 2012 Dean's Lunch was "Online and Open Education"
The topic for Fall 2011 Dean's Lunch was "Effective Models for Teaching and Learning Using Technology". The discussion was lead by Kristen Sosulski, CITL Director and Clinical Assistant Professor of IOMS.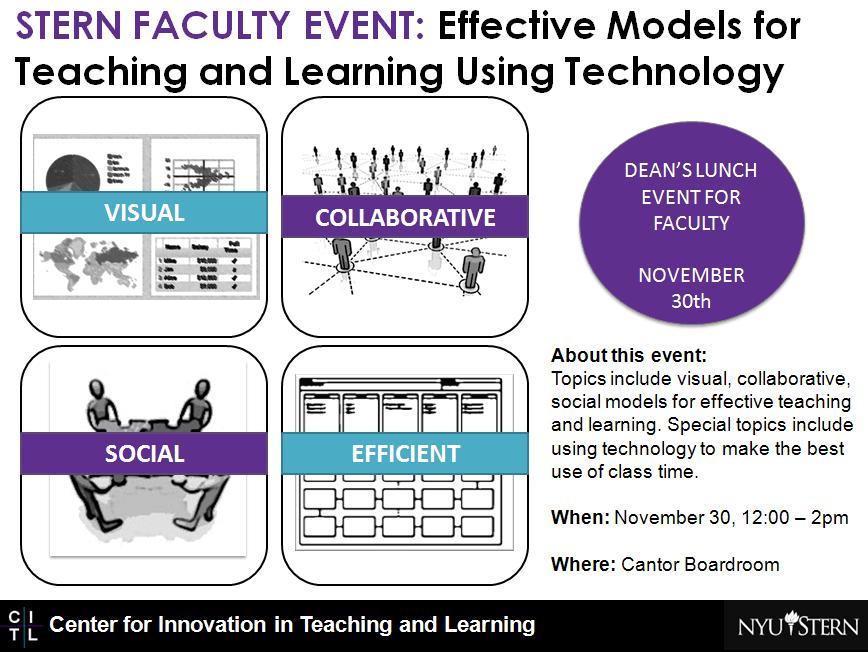 CITL also hosts several Faculty Forums throughout the year. Featured speakers are invited to give a talk to the Stern Faculty. Previous talks include: Enriching Class Participation with Students Response Solutions and Guest Speakers in the Classrooms.