Event Archive
Webinar: Developing A Successful Video Pitch - September 25, 2012
CITL partnered with the Berkeley Center for Entrepreneurship and Innovation to host a webinar for over 50 students that outlined how to develop a successful video pitch. Professors Jeffrey Younger and Kristen Sosulski presented tips and fielded questions from students. Check the event website for a recording of the webinar, which we hope to post in the next few days.
Workshop:
Producing an Effective Video to Pitch Your Idea - September 26 and 27, 2012
Partnering again with the Berkeley Center for Entrepreneurship and Innovation, CITL hosted two sessions of a hands-on training program designed to equip students with the skills to pitch their ideas using video. The sessions were facilitated by Brian O'Hagan, who taught video editing skills that can be implemented with a wide range of tools and software.
Photo Spotlight:
Producing an Effective Video to Pitch Your Idea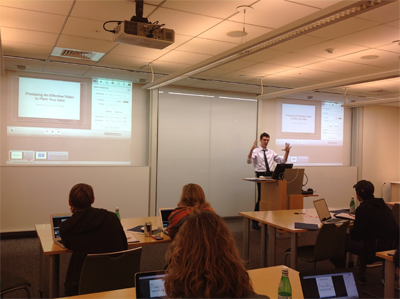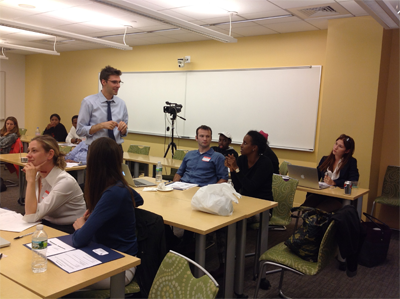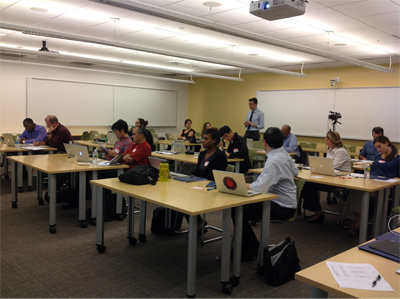 ---
CITL Faculty Seminar:
"The Future of Textbooks for Business Education"
- May 2, 2012 - Cantor Boardroom
Inkling, the premier digital publishing platform for interactive learning content and the Center for Innovation in Teaching and Learning (CITL) discussed the future of textbook for business education. View pictures from this event at our Facebook page.
CITL Advisory Board Meeting
- April 25, 2012
CITL Dean's Lunch Seminar:
"Online and Open Education
"
-
April 17, 2012 - Abbe-Bogen Faculty Lounge
Professors Aswath Damodaran and Kristen Sosulski introduced and facilitated a discussion on online and open education. Questions discussed included "What is online and open education?", "What does an online course look like?", and "How does it impact higher education?". View pictures from this event at our
Facebook page
.
---
Spring 2012 Faculty Workshops
Creating Effective Visuals
Delivering Engaging Webinars
Cultivating Collaboration Using Google Docs
Recognizing Learning Styles
Introduction to Social Media
Google Apps - Time Saving Tips on Course Administration
---
Enriching Class Participation with Student Response Solutions
Featured Speaker: Dr. Dan Levy
Special Remarks: Dr. Batia Wiesenfeld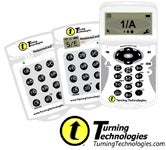 In Spring 2011, CITL hosted a Faculty Forum on how response systems (clickers) can be used in the broader context of actively engaging students. Faculty participated in an interactive session and learned strategies on how to transform the classroom into an interactive and engaging learning environment. Dr. Levy spoke about what he sees as key factors for using clickers effectively, and some of the challenges involved.
Forum Videos