Stern Consulting Corps (SCC)
Bring transformational thinking to tangible business problems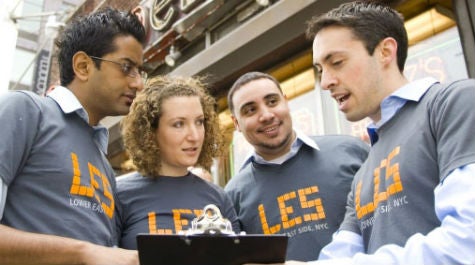 Consultants help analyze and solve organizations' most challenging business problems. These issues are often complex and ill-defined. Time, data, and resources may be limited. Management consultants successfully tackle these challenges by applying a structured approach to their analysis. The skills that consultants hone through this practice can be applied in a variety of business contexts and allow for structured, successful problem solving across disciplines. Students in the Stern Consulting Corps (SCC) program will learn these skills while applying the knowledge to a live 10-week consulting engagement.
Since its inception in 2002, SCC has partnered more than 1000 students with prominent organizations to help make a lasting business-driven impact. SCC students play an integral role in recommending new processes, crafting actionable business plans, and targeting opportunities for growth.
Starting in Spring 2014, the Stern Consulting Corps (SCC) program will be aligned with a new 1.5 credit management course entitled 'Consulting Practice: Process and Problem Solving.' SCC students will learn how to solve complex business problems, from problem definition to final client presentation, while simultaneously working on their live consulting project. This hands-on experiential learning opportunity will allow students to work in teams to tackle a critical business issue or opportunity for their SCC client while applying in real time the key steps of the consulting process they are learning in the classroom. Students will discuss their challenges, approaches and recommendations in class and on-line while benefiting from the guidance and expertise of the instructor who is a seasoned strategy consulting practitioner.
Information about the Stern Consulting Corps application is available on the
Apply
page.