Executive MBA alum Alan T. Ennis, President and CEO of Revlon, Inc. delivers commencement address at Class of 2011 graduation ceremony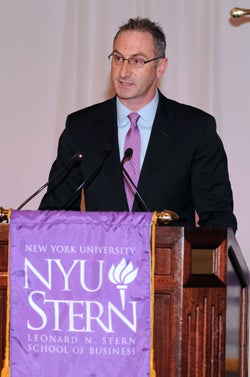 During Alan Ennis' commencement address for the Executive MBA Class of 2011 graduates, he provided unique insight into the circumstances that have led to his professional success and offered parting advice for the graduating Executive MBA students.
As the President and CEO of Revlon, Inc., the global color cosmetics and beauty care company, Ennis, an Executive MBA alum from 2002,focuses on growing the business by building Revlon's strong brands, developing the company's organizational capability and driving Revlon to act globally. Before assuming the role of President and CEO of Revlon, Inc., Ennis worked as President, Revlon International from 2008, and had served as Executive Vice President and Chief Financial Officer for the company since 2006. In 2008, he was recognized by Treasury & Risk magazine as a "Top 40 financial executive under 40," citing his fast-track career growth. With such a rapid rise through the ranks of his company, Ennis recognizes the contribution of his Executive MBA education in realizing his career goals. "I am forever grateful for the friends I made, the faculty who taught me and the education I received, which I lean upon to guide me in my everyday professional decisions," Ennis said.
In his address to the graduating Executive MBA students, Alan congratulated their accomplishment, and encouraged them to continue to build upon the foundation they have created. "Your MBA is an incredible platform from which to grow and the learnings will be invaluable in your future career," Ennis said. "Career progression for you now is a combination of skill and timing. With your degree, you have significantly improved the skill part of the equation…but you must be ready when the opportunities present themselves and seize them with a passion."