Shellene Santana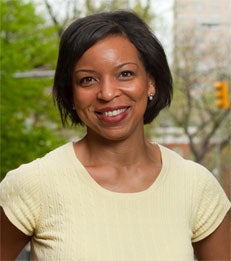 As a mother of two, Shelle knew it wouldn't be easy to fit getting a PhD into her already very busy life. However, after working in marketing in the financial services industry for many years, she decided to make the transition to academia. "Getting a PhD was something that I always considered, but the time never seemed right. Finally I just decided that if I really wanted to do this, there was no more time to waste!"

While Shelle admits the learning curve was steep, she says, "The required courses in the marketing program really allowed me to gain a broad understanding of classic research in psychology, marketing, and economics. I thought it was fascinating." Furthermore, Shelle credits the curriculum requirements for helping her develop into a strong researcher, and she appreciates the close working relationship Stern has with NYU's psychology department. "Having access to so many talented people is a real privilege," says Shelle.

Now in her final year of Stern's PhD program, Shelle already has notable accomplishments under her belt, including contributing to a few chapters in a book authored by several NYU Stern faculty, entitled Regulating Wall Street: The Dodd-Frank Act and the New Architecture of Global Finance. Published in 2010, the book received high accolades from the business and academic communities and was endorsed by luminaries, such as Olivier Blanchard, Chief Economist at the IMF, and Paul Volcker, former Chairman of the Federal Reserve, to name a few. Shelle has also presented research at behavioral marketing conferences sponsored by the Association of Consumer Research and the Society for Consumer Psychology. Her research interests include exploring consumers' subjective experience of purchase and payment, or how people feel when they pay for something.

Prior to attending Stern, Shelle worked for American Express in a variety of sales and marketing roles, most recently as the head of U.S. Corporate Card Marketing and Global Product Line Strategy. She completed her undergraduate studies at Cornell University, and earned an MBA from the Fuqua School of Business at Duke University.