University Programs for High School Students
Summer @ Stern through NYU Precollege
offers rising high school juniors and seniors from New York, the US, and the world the opportunity to learn fundamental concepts of business, including accounting, finance, economics, marketing, and psychology from Stern's world-renowned faculty, while studying in the heart of New York City.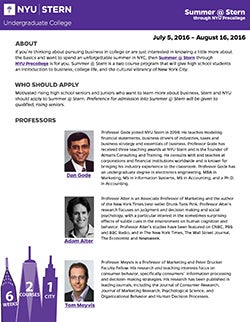 View the PDF
Courses:
Business and Investments – You need business and financial skills in your personal life as well as your professional life. Most high school curricula do not prepare students for these essential life skills. This course covers three critical areas: personal finance, business planning, and capital markets. It also teaches life lessons about how and why career choices affect financial outcomes.
Behavioral Economics and the Science of Decision Making – Study the science behind how people make decisions through an overview of research in the behavioral sciences. Understand how these tools can be leveraged to predict consumers' responses, anticipate managerial biases, and, ultimately, design more effective managerial and marketing strategies to obtain a competitive advantage.