Innovative Curriculum
Gain an outstanding educational background that is unique, dynamic, and hands-on
Since its inception, Stern has been a leader in developing new and innovative curricular initiatives. Our rigorous academic programs combine in-classroom learning with co-curricular experiences to provide the skills, expertise, and intellectual sophistication needed to advance in today's global business environment.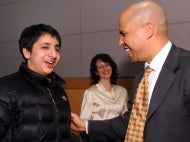 Two of Stern's most distinctive curricular innovations include its newly introduced
Social Impact Curriculum
featuring the course 'Business & Its Publics' and the leading
Barr Family International Studies Program
, which enables every Stern student to study international business first-hand.
Business & Its Publics
, the first course that freshmen take at Stern, introduces the connections between business, society, markets, politics, art, culture, and life. During this course, a wide range of visitors - including CEOs, politicians, regulators, entrepreneurs, activists, artists, writers, and more - speak about business from their unique point of view.
During junior year, every student in the core business program completes a two-course sequence on global business. The spring semester features the renowned
Barr Family International Studies Program (ISP).
ISP is a semester-long course that enables students to apply their understanding of global business and gain exposure to different cultures and ways of conducting business. In this course, student teams undertake an intensive study of an industry and company in a foreign country and travel abroad during Spring Break to make observations first-hand. While abroad, students have the opportunity to explore the culture, meet with company executives, and see corporate operations.