Sustain Possible
Guillaume Le Cunff, CEO of Nespresso USA, and Tensie Whelan, Director of Stern's Center for Sustainable Business, kick off the Stern Undergraduate College's Second Annual Social Impact Week.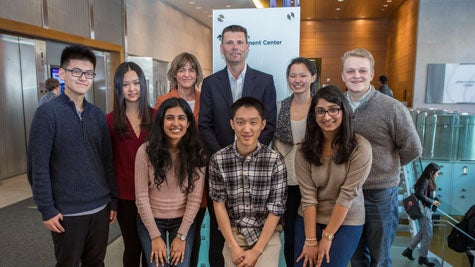 March 8, 2016
The NYU Stern Undergraduate College's Social Impact Council, a student-run group that raises awareness and connects students to social impact opportunities and resources, hosted the second annual
Impact Week
. The weeklong event included a wide variety of programming involving students, NYU faculty, alumni, and partnerships with other Stern clubs with the goal of raising awareness of the importance of doing good while doing business.
"The mission of the Social Impact Council is to connect students that are interested in social impact with the resources they need to get involved and get a career in social impact," said Lydia Guo, Stern senior and co-president of the Social Impact Council.
This year's Impact Week started with a fireside chat between Guillaume Le Cunff, CEO of Nespresso USA, and Tensie Whelan, the Director of Stern's Center for Sustainable Business.
As they delved into Nespresso's commitment to sustainability, Le Cunff provided insight to students who are looking to get involved with sustainability. "At one point in my career I had to decide between making an impact outside the business or inside the business. I'm convinced I can make more of an impact from inside the business."
As social impact is top of mind for students, Whelan added, "[the Center for Sustainable Business's] mission is to work with current and future business leaders to help them develop the experience, skills, and understanding they need to manage an organization in our resource constrained world, to manage risk, and to create opportunity and innovation and create value for their companies and for society."
Additional Impact Week events included a Social Impact specific
Industry Introduction Series
, a pitch competition hosted by Stern Cares, and a discussion on Education Start-Ups with Net Impact.
Watch the
fireside chat.
Learn more about
Social Impact
at Stern and the
Social Impact Council
.
--
Contact:
212.998.0921
sternuc@stern.nyu.edu