Walk-Through Registration for October 2014 Open House
Sign up to see Tisch Hall and speak to a current Stern student.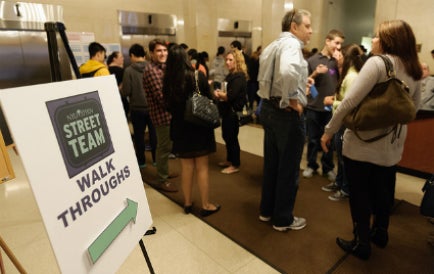 During Open House, we invite prospective students and their families to meet the students of the
NYU Stern Undergraduate College Street Team
for a 30 minute Walk-Through of NYU Stern's facilities.
You will have the opportunity to see a classroom, the student study lounge, and walk the halls of the Upper Concourse and Lower Concourse of Tisch Hall with a current student, who will also be available to answer any questions you may have about the Stern experience.
Sunday October 26, 2014
Advance registration for our Walk-Through sessions is complete. If you did not RSVP, but would still like to attend a Walk-Through session, please join us at Tisch Hall at noon. We will do our best to accommodate you. Thank you!
Register for Walk-Through A - 12:30 - 1:00 pm
Register for Walk-Through B - 1:00 - 1:30 pm
Register for Walk-Through C - 1:30 - 2:00 pm
Register for Walk-Through D - 2:00 - 2:30 pm