---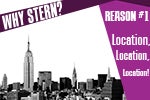 Dubbed a global power city, New York City is a dynamic hub for commerce, finance, media, art, fashion, research, technology, culture, entertainment, and cuisine. Whether you're learning from one of our expert faculty who comes straight to class from his job on Wall Street,
running to your internship
at L'Oreal or Goldman Sachs (NYC is home to the most Global 500 companies in the U.S.!), or grabbing lunch from a four-star food cart on your way to a school-sponsored event at the Museum of Modern Art, attending college in dynamic NYC is an experience like no other. Put simply, NYC is your classroom and NYU Stern, located in iconic
Greenwich Village
, gives you access to it all.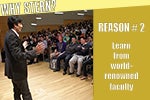 Our 200+
Stern faculty
rank 4th as the most prolific researchers in the world, and are mentioned
in the news
more than 23 times per day. In fact, we have
3 Nobel Prize winning professors
as well! As an undergraduate NYU Stern student, you have the opportunity to learn from top faculty in class and beyond. You might even have the chance to conduct one-on-one research with them through our
Stern Program for Undergraduate Research
!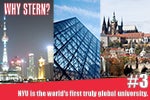 The largest independent research university in the U.S. with more than 40,000 students enrolled,
NYU
has embarked on the revolutionary project of becoming a fully networked global university consisting of
3 degree-granting campuses
and
11 international academic centers
on 6 of the world's 7 continents. Stern students embrace NYU's global ambitions, and, last year, 67% spent at least one semester away at an NYU academic center or at one of our
International Business Exchange
partners, where they learned from top business faculty from around the world.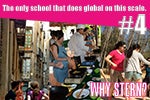 Every Stern student has a global experience even if you don't study abroad for a semester! Imagine you and ALL of your classmates taking a global study trip to Asia, Europe or South America during spring break of your junior year. For more than 12 years, our hallmark
International Studies Program
course has given 5000+ Stern juniors a real world perspective on the business practices in internationals cities like Hong Kong, Singapore, Barcelona, Berlin, Buenos Aires, and Santiago.
Coursework
done in the classroom prepares you for this
trip
where you will attend lectures by faculty from top business schools around the world, visit international companies to get an inside view of their business from senior executives, experience the unique culture of your travel city through group activities that you will remember for a lifetime. It culminates in the
ISP Competition
where you present your capstone assignment to your classmates, professors, and deans.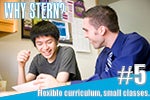 A big university doesn't mean big classes! At NYU, our average class size is less than 30. You can dig deep into your choice of
10 business concentrations
for
Business
majors or your business, politics and economics courses for
Business and Political Economy
majors. Consider broad connections across multiple topic areas in
8 interdisciplinary academic Tracks
. Balance in an undergraduate curriculum is important, too, and with
50% of your courses in the liberal arts
, you can explore your academic passions in any of NYU's other schools. One-third of Stern students pursue a minor in the liberal arts. Whether you take
Entertainment, Media and Technology courses
at the famous
Tisch School of the Arts
or
Applied Mathematics
courses at the world-renown Courant Institute of Mathematical Sciences, our Stern students currently explore over 90 subject areas at NYU.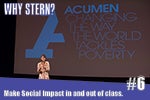 Business is THE social institution of our time, and Stern students take that responsibility seriously as they prepare to become global leaders and thinkers. You will be challenged by our four-year
Social Impact curriculum
, recognized by the
Carnegie Foundation for the Advancement of Teaching
as a model for undergraduate business education. It starts freshman year when you hear thought leaders from around the world in Business and Its Publics -- past speakers include notables like CNBC Business Commentator Maria Bartiromo, President of the Environmental Defense Fund Fred Krupp, Former President of Ireland Mary Robinson and Chairman and Forbes Editor-in-Chief Steve Forbes. Your journey goes beyond the classroom in our
Social Solutions Project Lab
or through our
Experiential Learning Seminar
.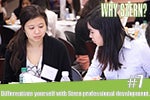 Don't know what you want to be when you grow up? That's ok! The Undergraduate College's
Office of Student Engagement
(OSE) can help you find your career calling or develop the skills you need to get there. Start by learning about potential careers in 20+ industries -- accounting, finance, marketing, and more -- in Stern's
Industry Introduction Series
. Then, cultivate Stern friendships and develop professionally by joining one of our
25 industry-focused student clubs
or taking the semester-long
Professional Development Series
. When you want to explore more deeply, you can showcase your knowledge through many
case competitions
or connect directly with industry leaders and Stern alumni through the
Alumni Career Engagement program
.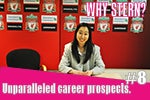 Whether you are looking for an internship or conducting your first full-time job search, through NYU's
Wasserman Center for Career Development
you have access to thousands of top firms in New York City, and around the world.
In a survey taken in 2013
, 98.6% of graduates were placed within 6 months of graduation. According to recent rankings, median starting salaries for recent graduates are among the top 5 highest at more than $62,400. Your access within NYC and beyond is extended by your connection to our more than 100,000
Stern alumni
in 100+ countries around the world. If you have advanced degrees in your sights, your Stern education will prepare you well for virtually any post-baccalaureate studies ranging from law to medicine, or even doctoral studies.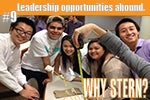 Developing as a leader starts with developing as a student and a classmate. Through the Cohort Leadership Program (CLP) -
CLP I: IMPACT
for freshmen - we help you fully tap your leadership potential. Grow your potential further by attending a
Dean's Leadership Roundtable Lunch
where you can talk with seasoned industry executives from a variety of backgrounds in a small group setting.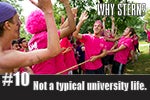 Life at NYU is as diverse and dynamic as the city for which we are named. You might live in an
NYU residence hall
, recently listed among the
top 10 best dorms in the country
on Huffington Post, or you might live "off campus." No matter where you make your home away from home, the
Cohort Program
helps you connect with the Stern community from your first day on campus. Wondering what you do when you aren't in class? With 400+
NYU clubs
with activities ranging from Theater to Chess, there is something for every student interest. And if you want to explore all that New York City has to offer, we help you do that through Stern's Cohen Arts and Culture Experience and
Experience NYC
!