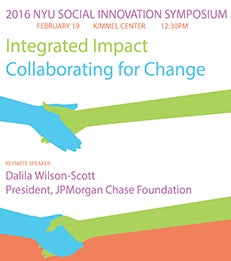 On February 19, 2016, the social enterprise student organizations of New York University's Leonard N. Stern School of Business, School of Law, and Robert F. Wagner Graduate School of Public Service will host the Sixth Annual NYU Social Innovation Symposium (SIS). This year's theme, "Integrated Impact: Collaborating for Change," will address the many ways in which business, government and nonprofit entities can be strategic allies in driving social change. The event will feature keynote speaker Dalila Wilson-Scott, head of global philanthropy at JPMorgan Chase and president of the JPMorgan Chase Foundation.
Combining perspectives from business and entrepreneurship, public policy and law, the Social Innovation Symposium provides an annual forum for professionals, scholars and students to explore and share bold ideas addressing a wide array of pressing social matters – from education, public health and environmental issues to concerns of financial inclusion and economic inequality. In addition to the keynote addresses and a variety of panel discussions, the Symposium's keystone program, "10 Minutes to Change the World," will foster a unique opportunity for discourse and networking for current and future social innovators.
For more information, please see the
conference website
.
Recap written by Public Affairs team.