The 2020 Sustainable Market Share Index™ finds that sustainability-marketed products are responsible for more than half of the growth in consumer packaged goods (CPGs) from 2015 to 2019, and that this growth continues despite the COVID-19 pandemic.
"Our analysis demonstrates that sustainability-marketed products enjoy a hefty premium, continue to grow faster than their conventional counterparts and contribute to over half of the growth to overall CPG. It's clear that brand managers who are not pursuing sustainability strategies will be increasingly left behind," said
Randi Kronthal-Sacco
, Senior Scholar, Marketing and Corporate Outreach, at the NYU Stern Center for Sustainable Business (CSB), who led the research initiative.
Click here to read the full report.
Despite the fact that sustainability-marketed products are 16.1% of the market, they delivered 54.7% of the CPG market growth (2015-2019).

Both sustainability-marketed and total category sales grew significantly and similarly the week ending March 15th, 2020, during the COVID-19 pandemic.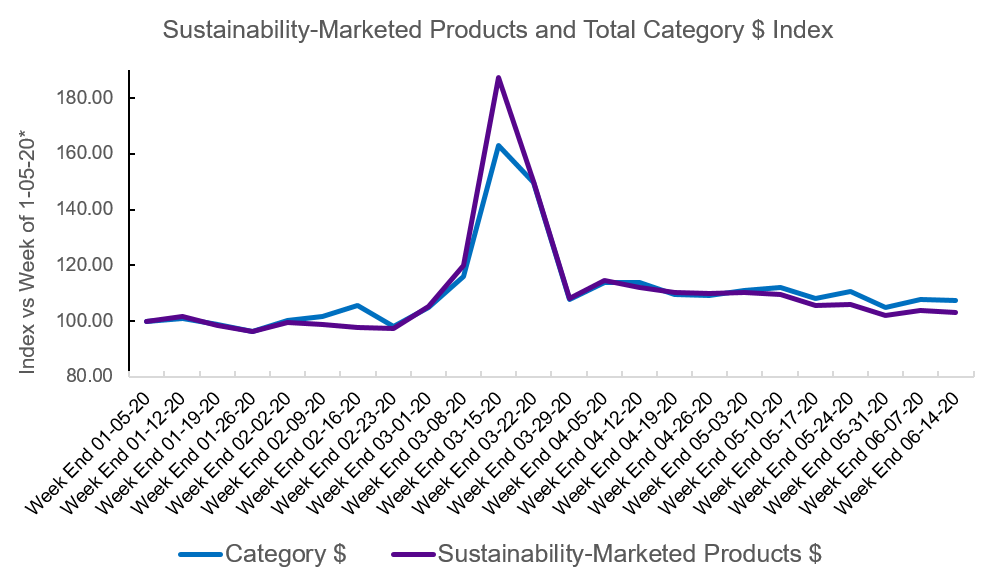 About the Study
Consumer packaged goods (CPG) companies are responding to changing generational expectations, including for more sustainable product offerings, yet understanding of sustainable purchasing trends is limited.
The NYU Stern Center for Sustainable Business (CSB) partnered with IRI, who provided the data pro bono, to assess the share and growth figures for sustainable products, the current demographic of the sustainable purchaser, and how sustainable products are faring during COVID-19. To conduct the research, CSB analyzed data from across 36 product categories, representing approximately 40% of total CPG sales, excluding tobacco and alcohol, to assess the following:
Have purchases of sustainable products increased over time?
Have sustainable purchases been impacted by COVID-19?
Are there specific product categories for which the purchases of more sustainable product options out- or under-perform less sustainable alternatives?
What is the impact of price on purchases of sustainable products?
Are there geographical differences in sustainable purchasing?
What is the demographic profile of the sustainable purchaser?
Our findings include:
Sustainability-marketed products delivered 54.7% of CPG market growth (2015-2019) despite representing only 16.1% share of the category($) in 2019, up +2.4 ppts vs. 2015. Sustainability-marketed products grew 7.1x faster than products not marketed as sustainable.
Sustainability-marketed products continue to grow despite the COVID-19 pandemic.
The market share of sustainability-marketed products aligns along a continuum based on perceived category functionality or efficacy. Even in categories with low shares, shares of sustainability-marketed products increased.
Sustainability-marketed branded products enjoy a significant price premium of 39.5% vs. their conventionally-marketed branded counterparts, with a widening premium of +5.3 pts vs. 2014.
Per capita, the top 5 states for purchases of sustainability-marketed products are NH, ME, MA,VT and CT.
Upper income, millennials, college-educated and urban consumers are more likely to buy sustainability-marketed products. In addition, Middle Income, Baby Boomers and Gen Xers contribute a significant percent of sustainable sales.
Related Resources