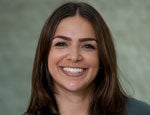 Dominique Miller, MBA 2012
Senior Relationship Manager, American Express
Undergraduate:
English, Boston College
Pre-Stern work experience:
Account Executive, 7 For All Mankind
Stern specializations:
Finance, Luxury Marketing and Strategy
Stern leadership:
Think Social, Drink Local
Committee, Luxury & Retail Club; Career Coach, Office of Career Development; Vice President of External Relations, Stern Women in Business
Club involvement:
Graduate Marketing Association
---
"I chose to pursue my MBA at Stern for a few reasons, but the number one reason was the community. When I stepped onto campus for the first time, it became very clear that Stern was a special place. Throughout my two years, I was continuously impressed by how supportive my classmates were, whether it was helping me to understand difficult coursework or reviewing cover letters to recruiters. The faculty and administration also played an integral role in the community. The professors and administrators were highly supportive and accessible. While I was also attracted by the Luxury Marketing specialization and of course, the opportunity to live and go to school in NYC, it was the sense of community that ultimately influenced my decision."