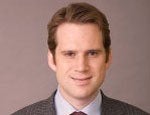 Mark Harper, MBA 2013
Associate, J.P. Morgan
Undergraduate:
Economics, University of London
Pre-Stern work experience:
Senior Analyst, Barclays
Stern specializations:
Accounting, Corporate Finance and Law & Business
Stern leadership:
Vice President of Corporate Relations, Latin American Business Association
Club involvement:
Graduate Finance Association
---
"During my time at Stern, I benefited from the excellent education, especially in the finance field. However, perhaps the most important skill I developed at Stern was to learn how to present myself to potential employers, both on paper and in person. I did this with the help of the Stern recruiting team and my classmates, notably through the Graduate Finance Association. Recruiting in the finance industry can be intense as the process begins soon after you start business school. No sooner have you walked through the door you are meeting with potential employers, and the Stern recruiting team ensures you have all the relevant information about what to expect, helps you prepare your resume and create an effective "2-minute" story. In addition, the largest and most prestigious financial institutions across the industry recruit at Stern, so there is ample opportunity to develop connections in your area of interest."