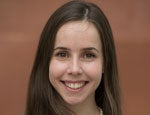 Agostina Salvó, MBA 2013
Associate, McKinsey & Company
Undergraduate:
Industrial Engineering at Technological Institute of Buenos Aires
Pre-Stern work experience:
Analyst, Lloyds Banking Group
Stern specializations:
Finance, Management and Strategy
Stern leadership:
Vice President of Career Development, Emerging Markets Association; Casing Mentor and Career Coach, Management Consulting Association
---
"Stern offers a unique combination of features that were instrumental in helping me land my dream job: a comprehensive career development program, an unbeatable location, and a strong and collaborative community. The Office of Career Development not only offers a really structured program that helped me prepare for the recruiting process but also provides additional support and insightful advice for international students. Moreover, being in the heart of NYC has significant advantages as it is a hub for most industries, helping students to develop stronger relationships with Stern alumni and recruiters. Most importantly, I believe that the support I received from my classmates and the dedication of second year students, through the Management Consulting Association, to teach me everything I needed to know about the consulting recruiting process, was essential. At Stern I got to know myself better, and take my leadership and communication skills to another level. I definitely learned the importance of being open-minded and persistent in pursuing your goals."