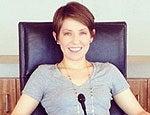 Rachel Hurnyak, MBA 2015
Undergraduate:
American Studies, Dickinson College
Pre-Stern work experience:
Government Affairs, Ford Motor Company; Chairman's Office, U.S. Securities & Exchange Commission; Enforcement, U.S. Securities & Exchange Commission
Stern specializations:
Finance and Economics
Stern leadership:
President, OutClass; Vice President of Career Development, Government & Business Association; Member, Leadership Development Initiative
---
"I thought business school would be a lonely place for me. I expected to be marginalized. I expected to be misunderstood. Much to my surprise that has not been the case. Hundreds upon hundreds of Sternies support me and our community, whether they are international, American, administrators, or faculty. The individuals drawn to the Stern community seek diversity by nature. This is New York: a community that has welcomed our people for decades when no one else would. I am honored to study business in Greenwich Village, where our movement began after the Stonewall Riots in 1968. I study finance and economics because many of them had to choose: would they be in business or would they be their true selves? At NYU Stern, you don't have to choose. New York accepts you for who you are; the Village accepts you for who you are. NYU Stern is a reflection of that; OutClass is a reflection of that. At this business school, LGBTQ people are not alone. We are empowered."