How to Utilize Your Career Account
—
By Danielle Amaddeo, Team Assistant
The CCWP has recently switched Career Account management systems from Symplicity to our new website manager, 12Twenty. This new system is very intuitive and has a fresh new look! We've decided to provide our students and alumni with detailed instructions on how to book an appointment with us utilizing this new system.
So without further ado, welcome to 12Twenty!
To log in, click here:
https://nyustern.12twenty.com/
Hint: Bookmark this page!
Once you're logged in, navigate to the panel on the left. Here is where you'll find the Home, Profile, Job Listings, Appointments, Events, and your Resource Library. The Appointment tab is where you can schedule appointments.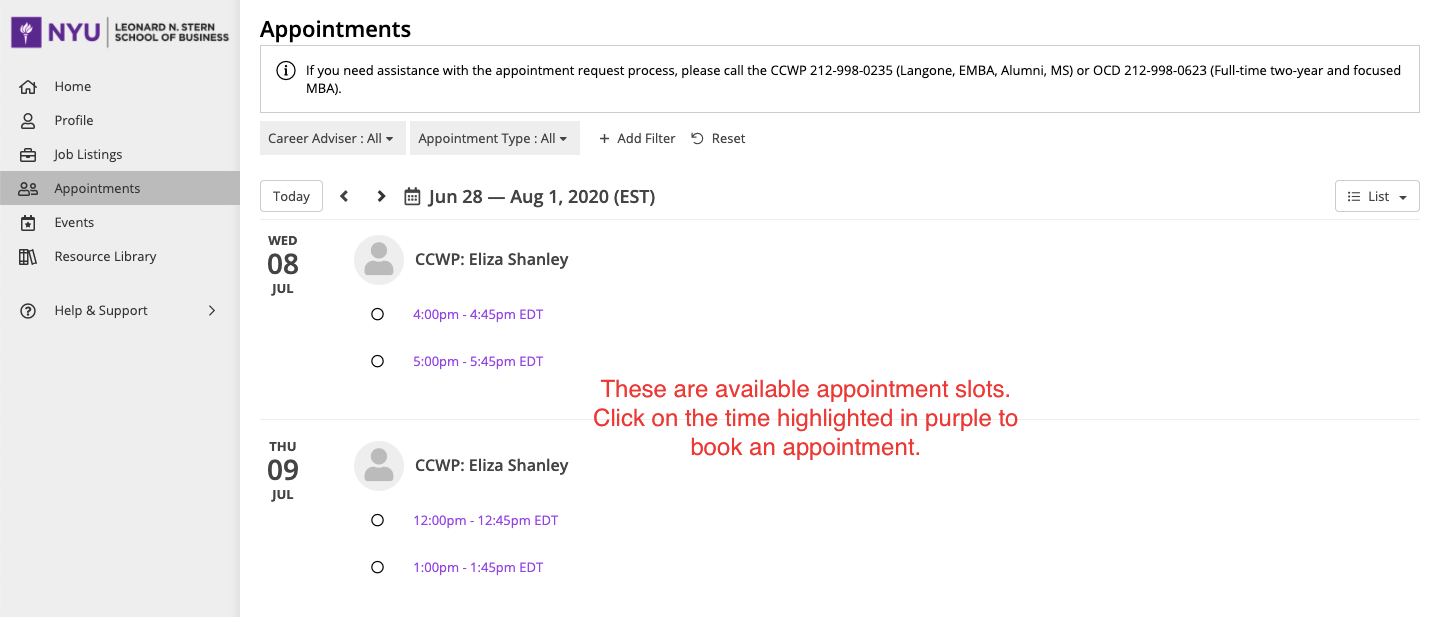 How to Schedule an Appointment in 12Twenty
Once you've selected the Appointments tab, you will see a drop down list of available appointment slots. Select the time and date that works best for you to book an appointment. You can also navigate to the following week using the > arrow next to the date. After selecting the appointment time in purple, click on the Book Appointment button in black. In the next screen, select your preferred appointment type from the drop down menu.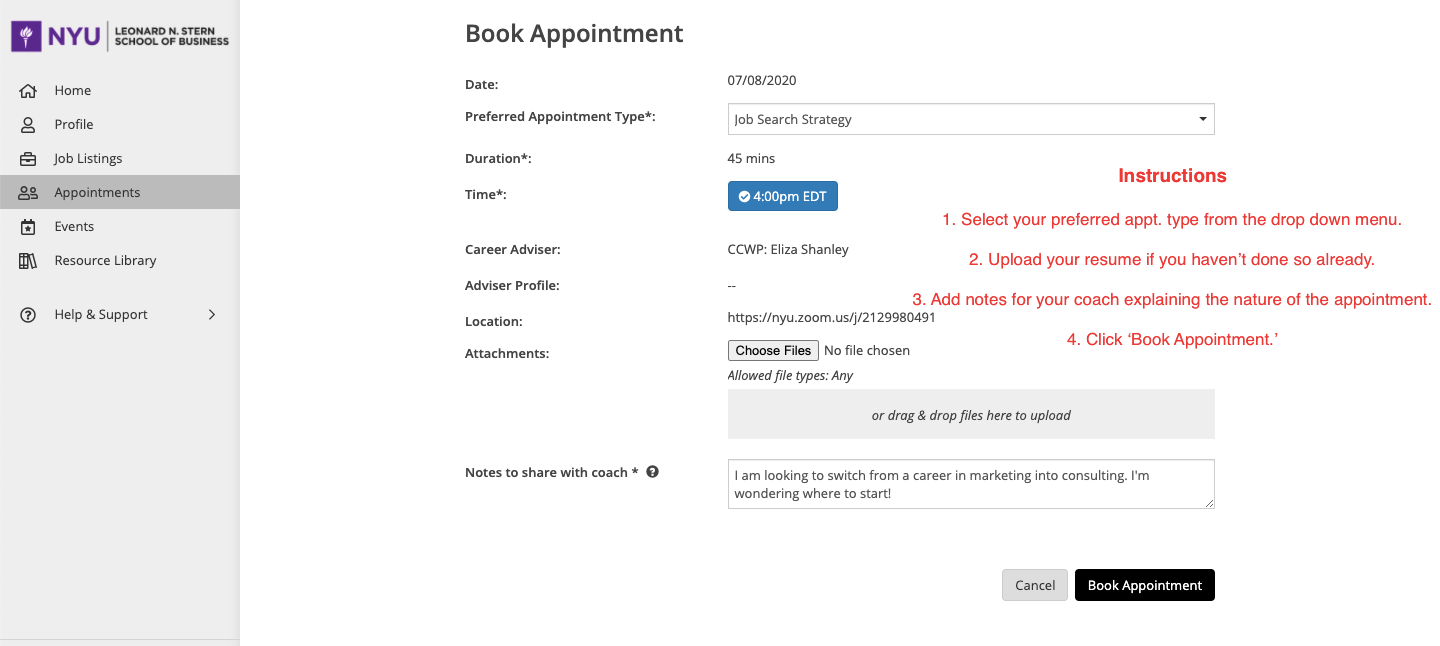 Then, upload your resume if you haven't done so already using the 'Upload' button, add notes for your coach explaining the nature of your appointment, then hit the 'Book Appointment' button to secure your appointment.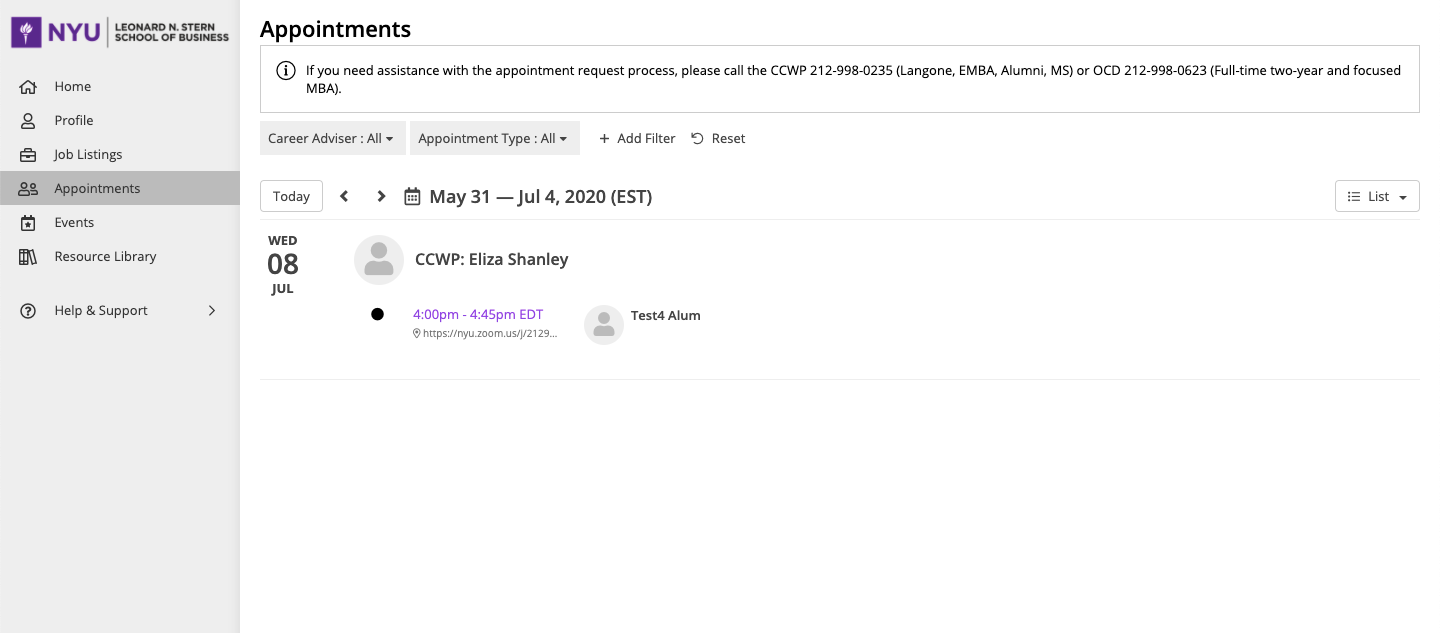 Once you have successfully booked your appointment, you will be able to see it visibly in the 'Appointments' section of your Career Account. Please keep in mind that you can only schedule one appointment at a time, therefore, you will not be able to see future appointments once you have booked your appointment. 
How to Cancel Your Appointment in 12Twenty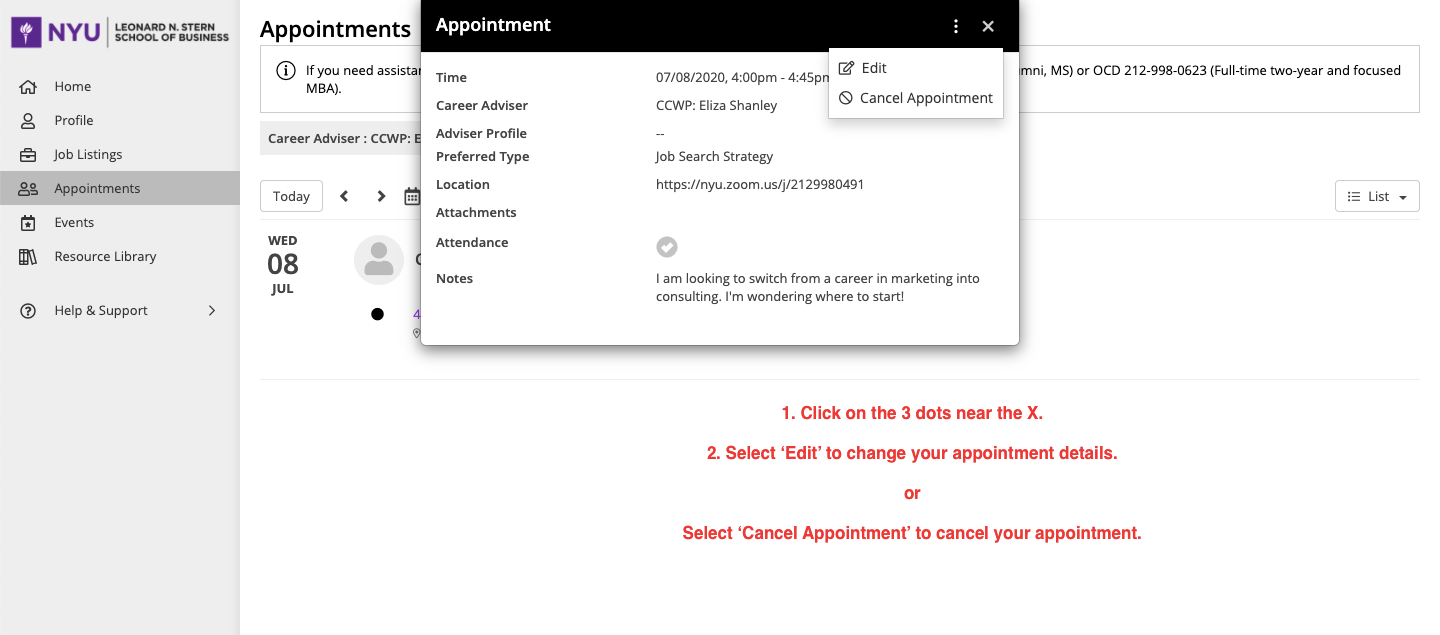 To cancel your appointment, go to the 'Appointments' tab and click on into your appointment by selecting the time slot that is posted as your appointment time in purple. Select the three dots next to the X and then hit 'Cancel Appointment.' Another screen will pop up asking if you're sure you want to cancel your appointment. Select 'Yes, cancel it' to confirm the cancellation. If you'd like to change your appointment details (i.e. the notes, upload a resume, or the appointment type)
instead of hitting 'Cancel Appointment' select 'Edit' to make your changes and then 'Save' to confirm changes. Once you have cancelled your appointment, you will be able to see other appointment options pop onto your screen. If you'd like to reschedule, select a new time slot that works for you and follow the process for scheduling appointments.
Accessing the Career Resource Hub in 12Twenty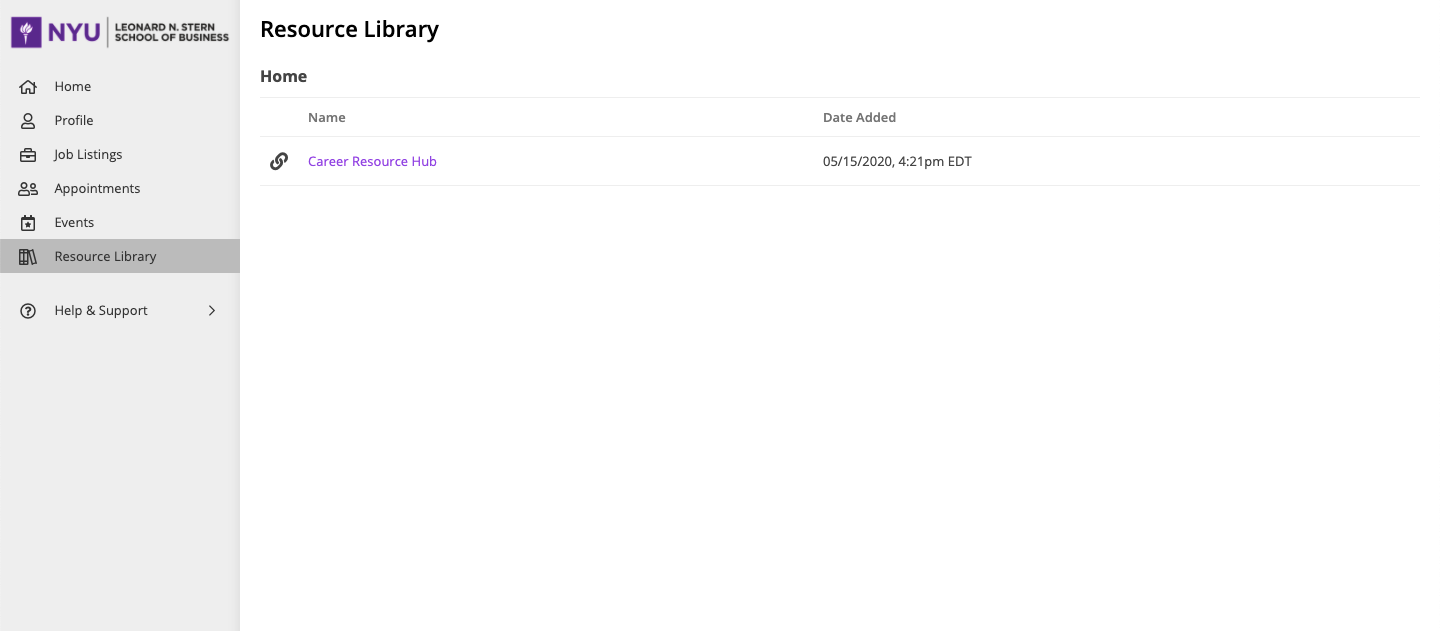 Your Career Resource Hub is still available under the 'Resource Library' tab on the left hand side of your Career Account. Once you've selected 'Resource Library' select the link that says 'Career Resource Hub.' 
Then, select 'Resource Database' to search for all resources under the following categories: Assessment, Policies, International, Interviewing, Job Search Strategy, Networking, Professional Development, Research, Resume/Cover Letters, Salary/Negotiation or View All Resources.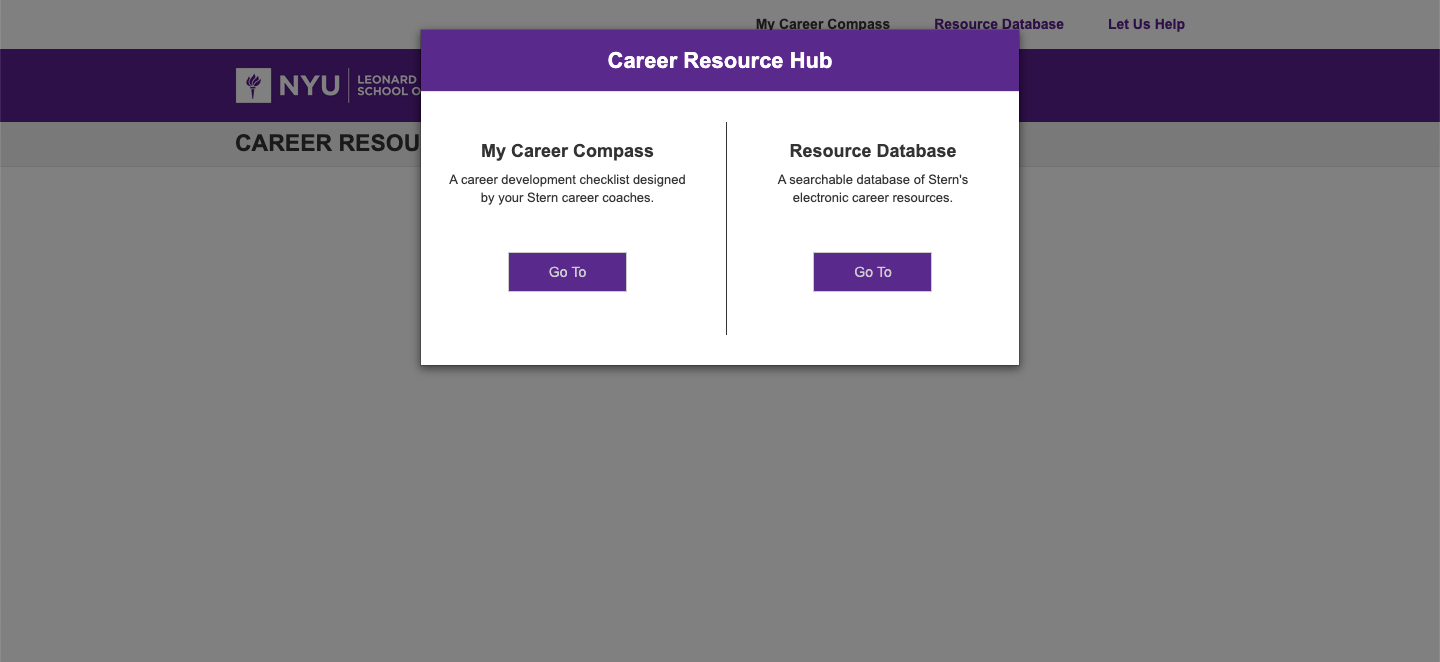 We hope this transition to our new system is intuitive for all of our populations. But if you ever need help when trying to utilize the website, please give our office a call at 212-998-0235 or email
ccwp@stern.nyu.edu
(Please include screenshots of your issue).