Research and Practitioner Learning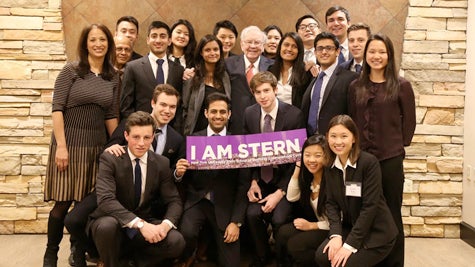 Honors program students travel to Omaha, Nebraska with Assistant Dean Tiffany Boselli (left) to meet Warren Buffett (center).
You have many opportunities to delve deeper into your academic pursuits through research and real-world applications of what you are learning in the classroom.
SPUR Database
The
Stern Program for Undergraduate Research
(SPUR) connects students with world-renowned Stern faculty, providing a unique research opportunity outside of the classroom.
Honors Program
Established in 2001, the
Honors Program
pairs high-achieving seniors with faculty members who mentor participants through graduate-level research and thesis development over the course of two semesters.
Seminars
Practitioner and Experiential Seminars
provide students with a connection to the business and not-for-profit world in a classroom setting.
Internships
The
Business Practicum Course
(MULT-UB 71) is designed to help students learn leadership and interpersonal skills that will allow them to effectively apply their classroom knowledge to the workplace.