Advanced Zoom Skills
Everything you need to know about scheduling, hosting, and joining Zoom sessions
---
Delegating Scheduling Ability
If you like, you can give someone else at NYU the ability to schedule Zoom meetings for you.  In the
web portal
, go to Settings, and scroll all the way to the bottom of the page.  There you will see the place to assign Schedule Privilege to someone else.  (See below.)
Inviting Guests
You can invite guest speakers to your Zoom meeting by sharing the "Join" URL with them via email. You can find it by navigating to your scheduled Zoom meeting in your course site and clicking on the Topic of the scheduled meeting. On the next page, you'll see an option to Invite Attendees. Send your guests the "Join" URL or click "Copy the Invitation" and follow the prompts to share more detailed joining options including dial-in information. 

Note that anyone who isn't logged into an NYU Zoom account may be automatically put into a waiting room. Keep in mind that any external guest speakers who will be joining your Zoom classes will likely be held in the waiting room and you will need to admit them to your meeting. 
Preventing Uninvited Guests
If we don't take precautions, anyone can join your meeting/class who has the URL.  Here are some of the things you can do.  In most cases doing just one will be enough:
Don't share your meeting URLs publicly (e.g., on a website), and do generate a unique meeting ID for each one. This means you shouldn't use your Personal Meeting ID (which is always the same) or schedule your classes as recurring meetings, as they will all have the same ID.
Tell your students that they shouldn't share your meeting URLs with their friends.
Lock your meeting after it starts (like closing the door to the classroom).  Select Manage Participants, click on the More dropdown (not the three dots), and click "Lock Meeting". Note that if you lock your meeting, you won't know if someone tries to join, which is a problem for students who left due to connection issues.  A way around that is to make sure all students find themselves a buddy or two and share mobile numbers.  That way if they are joining late or rejoining, they can text their buddies, who can let you know, so you can unlock the meeting long enough for them to (re)enter.
Not a perfect solution, but you can discourage unwanted visitors by allowing only those who have logged into a Zoom account (any Zoom account) to join. To do this, login to the Zoom Web portal, go to the Schedule Meeting menu, scroll down to "Only authenticated users can join meetings" and enable. Then create or edit your meeting making sure that "Only authenticated users can join" is selected (under Meeting Options).
Set a password for the Zoom session and select the option to "embed password in meeting link for one-click join."  (Note that this only keeps out the random guessers who are happy to crash any meeting.)
See a name or number you don't recognize in your list of participants? It may simply be a student having audio problems who is logged in twice. Regardless, ask the person to identify themself if you don't recognize a name or number.
Specifically, to prevent outsiders from using private chat to harass your students, you can disable private chat. To do this, click Chat in the control panel, then click More, and under "Allow attendees to chat with" choose "No one" or "Host only." Click the Security icon in your toolbar to disable chat completely.
Review your meeting security settings from the toolbar in your Zoom session
The security icon in your toolbar allows you to easily configure the security settings for your meeting. Click on this button after you launch your Zoom meeting to quickly:
Lock the meeting 
Enable the waiting room
Allow or prevent your participants from:

Sharing their screens  
Using Chat
Renaming themselves
We recommend clicking the security icon before students start joining your meeting to make sure your session is configured for your needs/preferences.

How to lock a meeting if you're using an iPad
Click More at the bottom right
Choose Meeting Settings from the menu
Toggle Lock Meeting so that it turns green and click Done
Removing uninvited guests & locking them out
To remove a participant, click "Manage Participants" in the control panel. In the Participants panel that appears, hover over the name of the desired participant, select More, and click Remove. 
You can also put participants on hold, which will disable their video and audio transmissions.  First, toggle "Attendee on Hold" to the on position in your
Zoom web portal
Settings.  To put someone on hold in a meeting, under "Manage Participants", hover over the name of the attendee you want to put on old, click More, and then click "Put on hold." The participant will see a screen that says "Please wait, the meeting host will let you in soon" (which may not be true!).  If you change your mind, select "Take off hold" in the Participants list. 
To ensure removed participants are unable to rejoin, log into the
Zoom web portal
, click Settings, and in the In Meeting (Basic) section, make sure that "Allow removed participants to rejoin" is toggled off.
Combining Sections for Review Sessions
If you want to hold an optional review session in Zoom for two or more sections, here's one way to approach it. 
Go to one section in Brightspace and create the meeting.
Send the link to the students in the other section(s).
After the review session, go to Zoom, then Cloud Recordings, and click on the meeting.  One of the options will be to share it using a link.  Copy and email to the other section.
Note that any students who join using the link may not have roster names associated with them during the meeting and in the meeting report.  If that matters, you can ask them to enter their full names when they join.
Holding Office Hours
You can set up virtual office hours for your students in Zoom.  If you want to see them one at a time or in small groups when you schedule your meeting select "Enable Waiting Room" under Meeting Options.  When students connect, they will see "Please wait, the meeting host will let you in soon" and you will be able to admit them when you are ready through Manage Participants.
During office hours, encourage students to share their screens with you, so you can see their work.  If it's handwritten, suggest that they take a photo and email it to you.
LEARN MORE ABOUT WAITING ROOMS
Alternative Hosts and Co-Hosts
If you are co-teaching or someone else will be starting your meeting/class, consider assigning an
alternative host
.  When you schedule your meeting in Brightspace, assign an Alternative Host at the bottom of the page.  Be sure to use their NYU (not Stern) email address.  Your alternative host will receive an email with a link to the meeting (which will not appear in their upcoming meetings). You and the alternative host will be able to switch-off host powers via Manage Participants. See below for what alternative hosts can and cannot do.
If you are teaching and want some help managing the meeting after it has begun, you can assign one or more
co-hosts
.  To assign a co-host, hover over the user's video, click on the three dots, and choose to "Make Co-Host".  Or click on "Manage Participants" (in the control panel), hover over the name, and choose "More".  Then click "Make Co-Host".   Co-hosts can record the meeting and manage participants.  However, they cannot start or end the meeting and cannot launch and manage breakout rooms. (See below for other limitations.)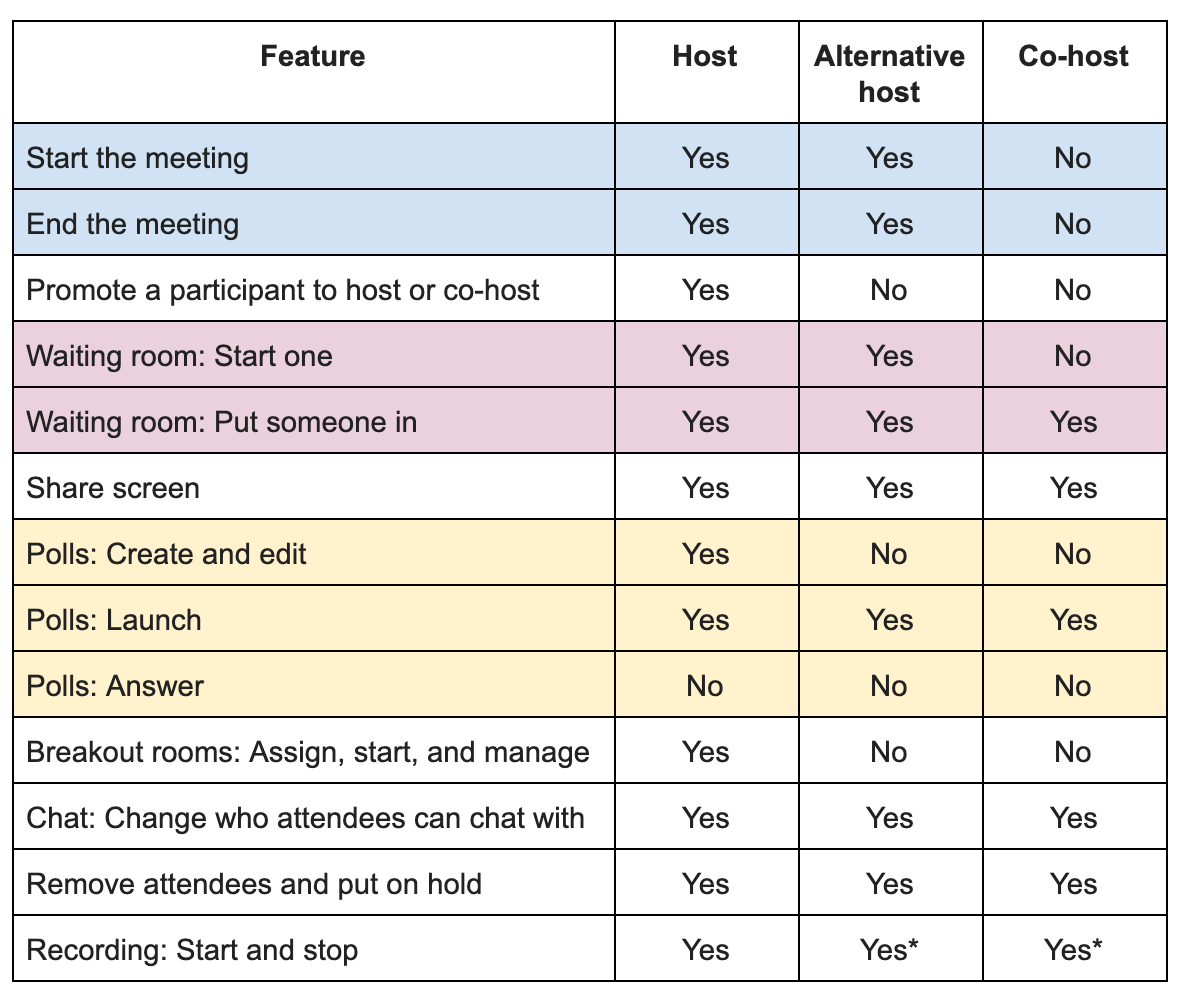 * Student co-hosts need special permission to record.
Joining More than One Meeting
You can't host more than one meeting at a time, but you can join more than one meeting as a participant.  To enable that ability (if it isn't already) log in to the
Zoom web portal
, go to Settings, and click the Meeting tab.  Under "In Meeting (Basic)", verify that the setting is enabled to Join different meetings simultaneously on desktop.  If not, toggle it on.