Alejandro 'Alex' Rubinstein, MSRM '13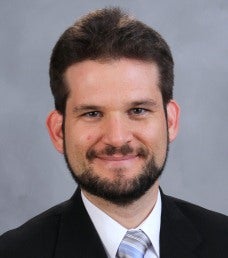 "Enterprising" might be one of the more obvious words to describe Alejandro Rubinstein, the 35-year-old senior manager for branches and alternate delivery at BAC San José Bank in Costa Rica. He was just a college student when he snagged his first real job—on a class tour of a pharmaceutical company, the budding industrial engineer identified an area for improvement in the warehouse's efficiency and, as an intern, presented a 15-page argument for it. That doggedness won him a permanent job.
Alex's career path thereafter reflects the same alertness to opportunity. While working for the pharmaceutical company, he repeatedly found himself making financial presentations for efficiency improvements to the board of directors. He recalls: "Every time I would present to the board, this particular member would ask about the risks and the probability of not meeting projections—not easy questions to answer. That's when I started being interested in measuring and managing risk."
A job at Scotiabank beckoned next, and Alex became a project manager charged with bank expansion. "I realized that by using financial tools, not only could I convince people to invest in my ideas, but that other people's dreams could be achieved by providing them with the right financial help," he says.
Career in transition
Now firmly hooked on banking, Alex earned an MBA in banking and finance, summa cum laude, at his undergraduate alma mater, the Universidad de Costa Rica. In 2003 he joined BAC Credomatic, the largest financial conglomerate in Central America, then a unit of General Electric Co. He started at BAC in corporate banking and set about rolling up another MBA, summa again, in marketing.  In 2010, Alex won the GE Global Banking Hero award.
In Alex's current position at BAC, he is responsible for the sales and all operational details of the branches, including cash management along with operational, liquidity, reputational, and even technological risk. He also oversees a staff of 1,200. The position's many facets sent him searching for an executive master's program that would round out his knowledge of the field. "I realized I needed to become an expert in risk management to continue to advance in the organization and perform better at my current position," he says.
Alex found Stern's MSRM program online. "I decided to enroll because I wanted to learn from the absolute best in this area. The program offered word-class faculty and a global network of alumni, with a convenient schedule and format."
Theory and practice
To Alex's great satisfaction, the work for Stern was immediately applicable to his current job. "It's amazing how I come back from a module and start to change and improve processes, reports, and even the organization chart in my area of responsibility," he said. "I can apply the best practices I just learned within days." What's more, he added, the curriculum broadened his knowledge of areas of banking outside his specialty.
The program's benefits extended to the quality of Alex's cohort, which comprised fellow professionals from different industry sectors and backgrounds who brought a world of perspectives to classroom discussions and collaborative projects. "When I enrolled I knew I would have one of the best faculties in the world," Alex noted. "What I did not expect was that I would learn so much from my classmates as well."
Married with children, Alex acknowledges the difficulty of juggling the competing demands of work, family, and school, but he insists the accomplishment is its own reward: "The program really does make you give the very best of yourself and show you just how much you can really do."
With the MSRM degree and continued experience under his belt, Alex is planning for a big future. "I've worked in manufacturing, banking operations, corporate banking, and retail banking. By studying and becoming an expert in risk management, I believe I'm taking the right step to, in the future, become the head of a complete financial operation. This is my biggest ambition: to use what I've learned at NYU in my work to positively impact this region, with innovative solutions for the under-banked that are also profitable for the bank."
Update: 
NYU Stern Master of Science in Risk Management student Alex Rubinstein made El Financierio's 40 Under 40 List. The leading business newspaper in Costa Rica highlights the work of innovative and renowned entrepreneurs and visionaries. Congratulations Alex!