Farid Chedid, MSRM '16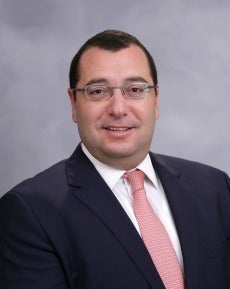 "Success is quite simple," says MSRM '16 alumnus Farid Chedid, CEO and Chairman of Chedid Capital. "You set a goal and achieve that goal." However, he is quick to add: "The more ambitious, the more challenging, the goal, the nicer the success."
This ambitious spirit has driven Farid since he began his career in the reinsurance and brokerage industry nearly two decades ago. "When I founded Chedid Capital, I didn't want it to just exist, but to become a powerhouse in the field…I wanted to have an impact in the market and to have the strength and power to change the rules of the game within my industry," he says.
Change the rules of the game he did: Farid has built Chedid Capital into a reinsurance brokering juggernaut, one of the most influential and respected firms in the industry. He often populates the list of the 50 most powerful insurance industry leaders, and in December 2016 he was awarded the prestigious MEA Industry Achiever of the Year at the MEA Risk and Insurance Excellence Awards.
Farid also set his aim high when he began to scout out MSRM programs. He sought a rigorous program that would deepen his understanding of the wider financial service industry. Of the programs on his short list, he chose Stern because of the flexibility of the schedule, its international modules, and the breadth of courses offered.
"Stern appealed to me most because of the scope of the curriculum. They offered courses related to the financial crisis, corporate governance, financial distress, corporate bankruptcy, and international finance modules," he says. "These went beyond what you find in traditional risk management programs, and I felt these courses were the best opportunity to widen my horizons and increase my knowledge in the financial service industry."
Farid found particular value in the module on financial crisis and corporate distress. He explains: "My region is full of problems: war, terrorism, economic issues. The Middle East and Africa are not easy markets to operate in. But the global and international scope of MSRM's program has allowed me to strengthen and expand in volatile markets."
Operating in such volatile markets requires a dynamic, intuitive capability of managing risk, and Farid acknowledges that Stern helped him tap into and strengthen this ability. "This program was great for me, as it changed my way of thinking and perceiving potential problems—it has allowed me to see problems before they occur," he says.
Farid believes he will continue to see his MSRM degree add value to his career: "My experience in the program and having the Stern brand name on my resume have already created for me many more opportunities and much wider exposure into the banking industry."