Gunjan Banati, MSRM '15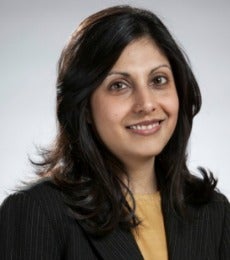 When Gunjan found herself transitioning from a focus on fund research and analytics to evaluating investment risk across her company's products, she knew it was time to formalize her role as risk manager for the firm and shore up her formal education in risk management.
Her employer, Royce & Associates, was supportive, and Gunjan looked for a program where she could interact with professors and other risk professionals and where she could build a network that she could leverage long after she graduated. Rejecting self-study programs and other offerings, she chose Stern's Master of Science in Risk Management program. "I would say I got more than I could have imagined," she says now. "I graduated with not only a world-class education but also an incredible network of peers across the globe, with perspectives that enriched our classroom interactions and still continues doing so today."
Fourteen years after she had graduated from Clark University with a BS in management and finance, Gunjan was less daunted by the prospect of returning to school than by the challenge of managing her time effectively. "Working full-time while trying to complete assignments and scheduling capstone calls across different time zones can be quite overwhelming," she concedes.  "But my classmates were a bright, dynamic, diverse, and really fun group of people, and the international travel for the different modules gave us a chance to really get to know each other and share some incredible experiences."
Meanwhile, Gunjan found she was using the material she was learning in real time. "I would find myself able to apply concepts and techniques I learned in class in my day job all the time. Sometimes it was a statistical technique, other times more qualitative, such as knowing the correct vernacular, the language of risk management, to better communicate my points."
The MSRM quickly benefited Gunjan in another way, too: her title, Director of Risk Management, quickly expanded to cover not just investment risk but enterprise risk. "I feel confident to take on these new responsibilities thanks to the knowledge I gained through the MSRM program," she says.
As a graduate, Gunjan has attended some MSRM roundtables she found valuable, and she plans to stay connected. "I got out of this program what I put into it, from the modules to writing the capstone, to the networks of friends I have built. I made friends for life at Stern."