Isil DiPietro, MSRM '16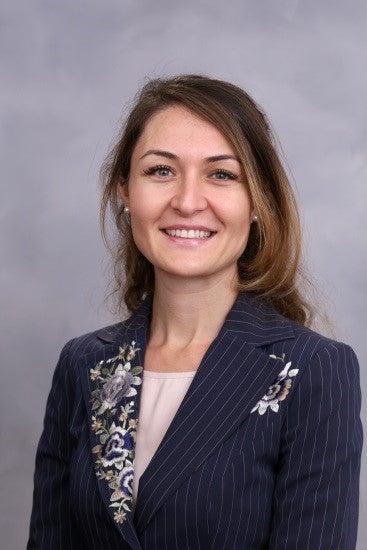 Isil DiPietro recalls her first assignment for Stern's Masters in Risk Management—to write a letter to Ana Botin, chairwoman of Santander Bank, and to advise her on what the bank should do to ensure that it passed the Comprehensive Capital Analysis and Review (at this time the bank had failed the test multiple times). Isil took the assignment to heart and—after a few short years post-graduation—became the Director of Risk Oversight at Santander Consumer. 
This full-circle journey began just before the 2008 financial crisis, when Isil was hired fresh out of graduate school as a securities analyst modeling cash flows for subprime residential mortgages. A few months later, the housing market collapsed. 
"Experiences shape how we see the future," Isil reflects. "I was a front-seat witness to the chaos that followed: Families losing their homes, those at the retirement age losing their entire retirement savings, and the working population facing unemployment levels compared to none. Mortgage Backed Securities are usually quoted as the main cause of the 2008 financial crisis but it was really the result of mediocre risk management, agency problems in the securitizations and poor rating and pricing standards. Knowing that as a risk manager I can help prevent the next crisis, prepare us better for the next uncertainty, and reduce the adverse impact of such. This is what excites me the most about my profession."
Armed with the understanding that risk management would become an increasingly critical field, Isil decided to pursue the MSRM program with Stern. "Although there are various risk programs out there right now, NYU Stern's program is one of the first of its kind at a top business school. The curriculum was designed to provide risk professionals a well-rounded view of various risk domains. Stern checked a lot of boxes for me, as I wanted to study at a prestigious institution with expert faculty in various risk domains and also wanted to interact with an impressive alumni network." 
"The program delivered," Isil says, "as the curriculum cut across foundational enterprise risk domains including macroeconomic and financial, operational, organizational, technological, and regulatory and legal risks—and also provided insights on various domains of interest including human capital and reputational risk." She notes that the program's curriculum has expanded since she graduated and now captures emerging risk topics such as climate change, artificial intelligence, fintech, and cyber security.  "The learning opportunities are limitless," she says. "We have some really impressive faculty who are experts in their fields and it is a waste not to leverage the access you have." 
Isil also took advantage of the vast and varied expertise of her cohort. "MSRM provided me the opportunity to be a part of a class consisting of committed and experienced professionals with diverse backgrounds from one end of the world to the other. Ours was a unique group of people in terms of experiences, expertise, industries, and geographic locations, and that engagement was the highlight of the program for me," she says. "I remain in touch with the MSRM faculty and the alumni, as I continue to reach out to them when I face difficult questions at work or would like to pick their brains on my professional and career growth.  I recently changed jobs and relocated half way across the country, and one of my alumni contacts was instrumental during the discussions, decision-making and transition."
Isil says there is no question that the program added value to her career, as it gave her the knowledge and confidence she needed to understand risk management, implement large scale programs for various financial firms, assess risk management frameworks, and implement and lead enterprise wide programs at various institutions.  "It was not always easy, with professional demands, travel, school work and a young child. At times I felt it was impossible to do it all. However, as I pushed myself beyond my limits, I discovered additional reserves to keep pushing.  That was my biggest return on investment—realizing what I was capable of doing and the ability to keep doing it."
Isil practically vibrates with intellectual curiosity—especially when it comes to the future of risk management.  She quotes Einstein's The more I learn, the more I realize how much I don't know when reflecting on her hopes for the future. "Although the program gave me the tools to identify, assess, and mitigate a multitude of risks themes and provided me the research skills to deep dive into areas of interest in various domains, I know there is so much I do not know, and I am ambitious to discover."