Mohammed Al-Obaid, MSRM '15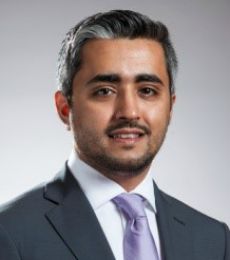 Mohammed was fairly new in his position as head of risk management for Saudi Arabia's Jadwa Investment when he entered NYU Stern's Master's in Risk Management program. During the course of the year, his skill set and knowledge of his chosen field grew as he spent more time in his job—a perfect situation. "Thanks to Stern, I have already gained by being ahead of the curve in risk management, as I now have the ability to manage risk from a broad systemic and strategic perspective with a focus on enterprise-wide risk management," he says. Jadwa, founded in 2006 and based in Riyadh, is an investment management and advisory firm.  
Since earning an undergraduate finance degree in 2003 from Saudi Arabia's King Fahd University of Petroleum and Minerals and beginning his career within the so-called semi-government sector, Mohammed's skills and horizons have steadily expanded. He moved from the industrial lending department at Saudi Industrial Development Fund to the private sector, staying more than five years at Al Rajhi Banking and Investments Group, the leading Islamic bank. There he explored corporate and investment banking, distinguishing himself by developing an innovative risk management model, policies, and procedures and earning a promotion to vice president of risk management. In the Saudi market, where most risk management executives are expatriates, Mohammed is one of the few local pioneers in the field.  
Despite his early success, he was insightful enough to realize that in order to stay ahead of the curve and be a leader, he needed to pursue more education in risk management, especially regarding global business trends and best practices. Stern's MSRM offered it all, he says. "Stern provided the ideal opportunity to cultivate my understanding of risk within a classroom setting, where I could also explore innovative ideas with an accomplished and diverse student body. The robust curriculum and global perspective were exactly what I was seeking."
Adds Mohammed: "The MSRM's rich curriculum, presented through its five-module structure, is perhaps only trumped by its dynamic student body and world-class faculty. This program helped me to understand the strategic dimensions of risk management and prepared me for the next move in my career, toward playing a strategic role in business development at the corporate executive level. Stern's MSRM program helped make this a reality rather than an opportunity."