Oene de Hek, MSRM '11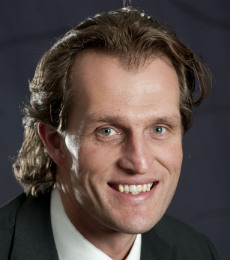 As head of risk management at the Bank of Scotland Netherlands, Oene de Hek sought to build on his existing skills and experience. "I considered pursuing an executive MBA, but realized I wanted to gain more specialized expertise in my field," he explains. His field had undergone a substantial shift since the financial crisis: "The recession really changed things. In my first years at the bank, you had to fight to get the right amount of stage time at executive meetings. Since the crisis, any question asked about strategy or initiatives is directed first to risk management. It's a fundamental, dramatic change."
Oene decided to enroll in the NYU Stern Master of Risk Management program. By Spring of 2010, he was juggling classes with his ongoing responsibilities as risk manager for an €8.5-billion mortgage portfolio. In October, he was assigned to a project in Tokyo for three months.
In the midst of his hectic schedule, Oene found the program continually compelling: "The professors are worth listening to for hours and days," he says. He was also surprised by how much he learned from his fellow classmates. In his four-person study group, one classmate was a New Zealander working in hospital operational risk management in Abu Dhabi; another was an Argentine evaluating investments in the developing world for the World Bank in Washington, DC; and a third was a New York energy consultant. "There is, of course, added value in the international setting and the diversity of the other students," Oene says. "But I hadn't expected how much it broadens your mindset to discuss cases with people who have such different experience." Between his classmates and professors, Oene says, "at the end of a day, it is nine hours of inspiration."
Update:
Please note that Oene is now a Legal, Compliance & Operational Risk Manager at Solid Mortgages.