Rose Kinuthia, MSRM '13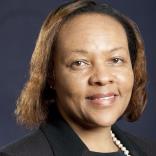 Rose is an accomplished banking professional with a blue-chip background. She is currently Chief Risk Officer of KCB Bank in Nairobi, Kenya, having joined the organization in 2004 as Divisional Director, Risk Management. Previously, she worked for the First National Bank of Chicago in Nairobi; New York Life Insurance Company in New York; and Barclays Bank in Nairobi. She holds a B.A. in Economics and French from the University of Nairobi and an M.B.A. from Adelphi University in New York.
In her current position, which she has held since 2007, Rose has expanded the scope of the bank's risk management framework to cover enterprise-wide risk and prepared the bank toward Basel II and Basel III readiness. She says risk management gives her "the opportunity to contribute toward building organizational sustainability and strengthening the institutional framework so as to ensure that it is built to last." She decided to take on the challenge of adding a Master's Degree in Risk Management to her resume to deepen her knowledge and acquire best-practice techniques on enterprise-wide risk management.
At NYU Stern, Rose has found a program "rich in content and access to thought leadership material, with an excellent faculty," as she had anticipated. "The risks covered in the profile of the NYU program are a perfect match for the risks that I need to cover in my job, and this is one of the things that really attracted me to the program," she says. "The three modules that I have gone through already have been very relevant."
Born and raised in Kenya, Rose is married with children and prizes quality time with her family. She enjoys reading inspirational books and playing the guitar, as well as scrabble and chess. She concludes that the program is demanding, but rewarding. "The challenges have more to do with my ability to manage a happy work, life, and study balance, especially with day-to-day job demands. However, I believe that the investment in time is well worth it. The program has been excellent, and I feel I have grown from the experience."