Sanchita Mustauphy, MSRM '17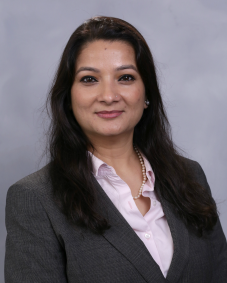 Ambition and curiosity were the forces that drove Sanchita Mustauphy, Senior Vice President of Tata Capital, to pursue a Master of Science in Risk Management after two decades in the financial services industry. 
"I am ambitious because I want to grow into the role of Chief Risk Officer, and I am curious, particularly about enterprise risk management and as treasury risk is quite important in the industry at this moment," she explains. 
As the head of the Corporate Finance Credit Risk vertical in one of the largest non-bank financial institutions in India—and with a team of sixty-five credit members—Sanchita felt that a degree in risk management would be critical to her professional growth as well as the company's success, particularly in a volatile global economy. "The Indian financial industry is currently facing challenges in terms of default customers, constant policy reforms by a new government coupled with low credit growth. The country is also impacted by slow growth in the international market for some industries like the automobile and pharmaceutical industries. Risk Management has a bigger role in growth and long term sustainability of corporates in this competitive environment." 
Stern's MSRM program offered precisely what Sanchita was looking for: a focus on corporate risk and enterprise risk management, as well as the opportunity to learn in classrooms around the world which, she says, ensures that you can have "both academics and global experience."
"My curiosity about compliance and corporate credit risk was well satisfied in this program," she says. "The MSRM program helped me understand the complexities of defined risks like corporate lending risk, foreign currency risk, and, most importantly operation risk and cyber risk. The program will help me prepare mitigations for identified risks in the future." 
Sanchita says the program also fueled her ambition, and she's confident that she is well on her way to realizing her dream of being CRO of a major financial institution. "The vast scope of topics we covered in MSRM has helped me to prepare for the position of Chief Risk Officer and will enable me to contribute positively to the long term strategy and sustainable growth of that organization." 
Her new credentials and degree have already opened doors and given Sanchita opportunities to share her new knowledge within the industry. Soon after she graduated, the Indian Institute of Management in Calcutta invited her to talk about corporate credit risk in their Banking Management program. "The MSRM program and invitations like this has given me confidence to speak about risk management and put forward my own views with more conviction," she says. 
Most rewarding, Sanchita says, have been the relationships she's built with her fellow classmates. "The cohort has been the best gift I got in this journey," she says. "Some of my classmates are friends for life. During classroom chats, I learned new organization risk models and digital business for some business verticals from my cohort. Even after the program, I still share my professional work-related challenges and crowdsource better risk frameworks for my organization."  
Sanchita says that she considers it a privilege to spread the word about Stern and represent the MSRM program, particularly in Asian countries. Reflecting on how she might best summarize the program to prospective students, she says, simply: "It's the complete package."  
Personal motto:
Enjoy the present
Biggest professional goal:
  Being selected Chief Risk Officer of my new company
If I had a month off work to do anything I wanted I would:
Travel the world
If I wasn't in this profession, I would be:
An Indian classical dancer