Sandra Del Guercio, MSRM '19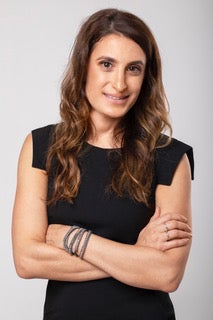 Reflecting on three words to describe her experience with Stern's MSRM program, Sandra Del Guercio doesn't hesitate: "I need coffee!"  She's kidding, she clarifies quickly, but who could blame her if she wasn't?  
As an Enterprise Risk Manager for QBE North America, an active volunteer for running organizations such New York Road Runners and Leukemia & Lymphoma Society and a mentor for InsurTech startups through the organization Plug & Play Tech Center, Sandra already had a full workload before she started her MSRM journey.  She was drawn to Stern's program, she says, in part because of its flexibility. 
"As a working professional, the MSRM program would allow me to continue meeting a demanding work schedule with its combination of in-person and independent study," she says. 
Another draw was the program's broad curriculum, which she hoped would both complement her skills from fifteen years' experience as an insurance risk manager and help her develop fresh expertise in risk management for her new role as Enterprise Risk Manager at QBE.  
The program delivered, and Sandra noticed an immediate impact on how she approached her work.  "The coursework provided me with opportunities to practice and demonstrate what I learned in a variety of contexts, and it gave me the tactical skills needed to thrive in various areas of risk," she says. "Beyond technical knowledge, I gained a more niche skillset to help me excel in the field of risk management and succeed in the day to day responsibilities of my role." 
Not only did her experience help fine-tune her skillset, it also served as a launchpad for a new career move for Sandra, who joined Citi as VP in Concentration Risk Management not long after graduation. 
"The MSRM program gave me the specialized knowledge and skills needed to switch industries. The Stern's network of alumnae offers an invaluable resource you can turn to again and again, and it helped me start my new career path when I transitioned industries. Additionally, the Lifelong Learning program at NYU provides me with the opportunity to continually develop and grow on this new path."  
Another buttressing force for Sandra both during the program and her career shift was the support of her cohort, with whom she says she has built friendships that will "last a lifetime." She elaborates: "Stern's MSRM provided the perfect environment to build a professional global network and the rare chance to develop personal relationships with established professionals in my industry. We bonded through such unique experiences and supported each other balancing school, work and life. As we all adjust to the new way of life during the current COVID-19 pandemic, we continue to keep each other laughing." 
Beyond the technical skillset gain and network of colleagues, Sandra espouses the less quantifiable return on investment. "Furthering your education carries a host of benefits. A graduate degree in your field of work is a natural career boost—it made a difference in my career and it will open more doors in the future. What's more, the feeling of personal satisfaction is overwhelming. The effort put forth to complete your studies, despite moments of doubt, will always stand as a central character-building life experience."
Sandra's commitment to succeeding in her field is driven in part by her true passion and excitement for Risk Management and the interplay of RM theory and real-life global events. 
"The creativity aspect of risk management is what I find so exciting. I love the challenge of taking apart processes and designing, redesigning or aligning them to produce the desired effect of keeping a firm safe and sound while generating a profit," she says. "The field of Risk Management continues to evolve in this increasingly uncertain, complex, and interconnected world, and it has been heightened during the current COVID-19 pandemic. As the field continues to evolve, I hope to continue growing through hands-on experience educational opportunities." 
Reflecting again on three words to describe her experience with Stern, Sandra concludes: "
Hard work wins
. Although your innate talents may create opportunities, you have to put in the work to make those opportunities a reality. Determination is the quality that allows me to stay focused on my goals and create paths to succeed in them. With determination, failure is just a diversion. It's not an end."