Sandra Eavens, MSRM '12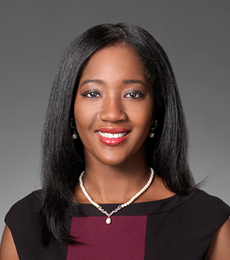 The ROI for Sandra's MSRM degree was immediate and obvious. Within two years of graduating, she secured two jobs, both of them, she says, because of her advanced training in risk management: "That's what got me to the table."  
Sandra's path to success wasn't linear. Real estate, her first love, runs in her family: her father was a local developer in Brooklyn, NY, and she grew up understanding the business. She started her career as a real estate broker, then, using her talent for numbers, moved into commercial real estate CMBS (commercial mortgage-backed securities) underwriting. The 2008 recession interrupted that arc. She transitioned to a position as a loan workout officer for a bank, which afforded her a different perspective on risk that ended up influencing her career strategy going forward. "In this very competitive business, you need an edge," she explains. "I had worked in risk management for three years earlier in my career, but I realized I wanted to examine risk on a higher level. And being a woman and an African American, I could see I needed to be better than anyone else, and that going to a top university for further risk management training was paramount."  
With a growing family of four young children in New York, Sandra checked out the risk programs at elite universities on the East Coast but saw nothing that compared with the depth of Stern's MSRM program.  
Still, upon entering the program, she had some trepidation, because real estate finance and asset management were not as well represented in her cohort as were other areas. Sandra experienced what she describes as a "steep, steep" learning curve. "It was not a cakewalk," she admits, "but the School provides excellent tools to help you catch up in finance and economics if those aren't your areas, and the professors are extremely helpful."  What's more, she adds, "I wasn't alone. A lot of classmates were learning some of this for the first time."  
Very early in the program, she realized that the concepts of risk were similar across all sectors. "The language may be different, but the concepts are the same, whether you're talking about interest rate risk, bankruptcy risk, or reputational or operational risk," she says.  
Earning her MSRM degree entailed plenty of hard work, but it was "absolutely the right thing to do," Sandra asserts. Shortly after graduation, she was hired by a midsized bank as a vice president and senior credit officer. In 2014 she was recruited into her current job in real estate development, the field she loves, as vice president, asset manager, for TRITEC Real Estate Company Inc., overseeing risk issues and asset quality in the management of a portfolio of office properties and a large, mixed-use complex on New York's Long Island.