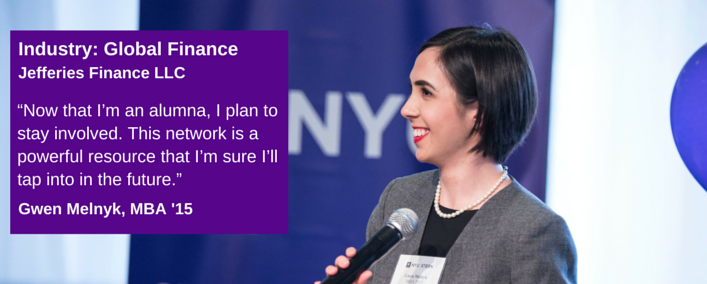 Industry: Higher Education
McGill University
Associate Professor of Strategy and Organization and Associate Dean of Executive Education


Corey Phelps, MPhil '01, PhD '03

: Corey Phelps channeled his lifelong fascination with technology toward expertise in the role organizations play in commercializing innovations. He recently published the book,

Cracked It! How to Solve Big Problems and Sell Solutions Like Top Strategy Consultants.

Industry: Beauty & Entrepreneurship
type:A brands
Founder


Allison Moss, MBA '09

: Moss aligned her passion for clean products with her professional experience to create type: A, a clean beauty brand featuring natural deodorant. She shares how she transitioned from beauty marketing to becoming an entrepreneur.

Industry: Tech
IBM
Experiential Marketing Manager, Corporate Marketing


Sara Sindelar, MBA '17:

Sindelar has held a variety of roles at IBM throughout her career, and was named to the 2018 Forbes 30 Under 30 Game Changers in Marketing and Advertising list. She shares insights as a leading marketing innovator.

Industry: News Media
CNBC
Retail Reporter


Courtney Reagan, MBA '13:

Reagan shares her experience and values as CNBC's Retail Reporter along with some highlights of her time at Stern.

Industry: FinTech
Caissa, LLC
President and Co-Founder


Susan Veksler, BS '03:

Veksler co-founded Caissa, LLC, with another Stern grad. She shares what led her to start her own company and offers advice for aspiring entrepreneurs.

Industry: Nonprofit
International Rescue Committee
Director of Strategic Projects


Benjamin Wise, MBA '13:

Wise went from nonprofits to consulting and ultimately found his way to the International Rescue Committee (IRC), a nonprofit humanitarian organization where he can make an impact for a mission he supports.

Industry: Social Enterprise
SunCulture
Co-Founder and CEO


Samir Ibrahim, BS '11:

SunCulture's ArgoSolar Irrigation Kit can improve crop yield up to 300% for farmers in Sub-Saharan Africa through a combination of cost effective solar-powered pumping and efficient drip irrigation.

Industry: Consulting
Cedar Management Consulting International, LLC
Chairman


Sanjiv Anand, MBA '85

: Anand translated over 30 years of consulting experience into a new book, "Execution Excellence: Making Strategy Work using the Balanced Scorecard".

Industry: Nonprofit
Goldman Sachs Gives
Chief Operating Officer

Anne Black, MBA '99

:

As COO of the donor-advised fund Goldman Sachs Gives, Black helps to direct the firm's charitable resources to underserved communities around the globe.

Industry: Marketing & Entrepreneurship

Direct Agents

Managing Director and Co-Founder

Josh Boaz, BS '04

: As an undergraduate student, Boaz founded Direct Agents. His company has evolved from a digital marketing start-up to a full-service digital agency.

Industry: Asset Management Bristol Gate Capital Partners

President and Chief Risk Officer

Mike Capombassis, MBA '96

: After years in sales and trading roles at large banks, Capombassis shifted into a role at a small asset management firm. "In smaller firms, nothing happens unless you help make it happen. But the rewards are greater."

Industry: Business & Entrepreneurship Exhale Enterprises, Inc.

Chief Executive Officer

Annbeth Eschbach, MBA '90

:

It's no longer enough to deliver just a spa or gym experience; as an all-ecompassing lifestyle brand, Exhale has been well-positioned to succeed.

Industry: Media & Advertising
Turner
Senior Vice President, Research, Turner Emerging Consumers


Jeff Grant, MBA '97

: Grant is responsible for all aspects of brand and ad sales research for Turner's Cartoon Network, Adult Swim, Boomerang and truTV, key networks targeting the Millennial and Plural generations.

Industry: Tech Entrepreneurship
Button
Co-Founder


Tanner Hackett, MBA '11

: As Co-Founder of Button, Hackett is redefining the way consumers engage with digital commerce companies.

Industry: Business & Management

Morgan Stanley

Robin Harris, BS '08: Some 15 years into his career, Harris decided he needed more schooling to take the next step forward; he enrolled at NYU's School of Continuing and Professional Studies and earned his bachelor's degree in technology.

Industry: Restaurants & Franchise

Howley Bread Group, Ltd.

Lee Howley, MBA '72

: Howley Bread Group, Ltd. owns and operates 27 Panera Bread bakery-cafés in Connecticut, Massachusetts, and Rhode Island. Howley also lends his services to a laundry list of civic organizations.

Industry: Non-Profit & Finance

JP Morgan

Managing Director and Head of Asset Management and Foundations Group

Monica Isaar, BS '96, MBA '03: As Managing Director and the head of the JP Morgan Asset Management and Foundations Group, Isaar leads a team that provides customized advisory services and investment strategies to charitable organizations.

Industry: Tech Entrepreneurship
Cognitive ToyBox
Founder

Tammy Kwan, MBA '15

: As one of the first Summer Startup Fellows, a program through Stern's WR Berkley Innovation Lab, Kwan found the support she needed to develop her business plan as a student and eventually pursue her idea full-time after graduating from Stern.

Industry: Venture Capital

Union Square Ventures

Brittany Laughlin, BS '07

: After founding two separate businesses, Laughlin now oversees a network of portfolio companies at an internet technology venture capital firm.

Industry: Tech Entrepreneurship Upgrade Capital

Founder

Alexey Loganchuk, MBA '90

: In September 2011, Loganchuk launched Upgrade Capital with the goal of providing buy-side firms with a web-based platform to help with recruiting decisions.

Industry: Finance
Jefferies Finance LLC
Associate

Gwen Melnyk, MBA '15: While working as a chemical engineer in pharmaceutical research and development, Gwen Melnyk looked for ways to advance within the healthcare space, and landed on a degree through NYU Stern's Langone Part-time MBA program in Westchester.
Industry: Finance
Goldman Sachs
Chief Regional Equity Strategist for Asia Pacific and Co-Head of Asian Economics, Strategy and Commodity Research

Timothy Moe, WSC '79, MBA '84: Moe and his team are responsible for 11 equity markets and provide guidance to the firm's institutional investor clients. He also oversees the Asia region as part of a six-person executive committee that leads macro research globally.
Industry: Government & Manufacturing
Cement Manufacturers Association of the Philippines
President

Ernesto Ordonez, MS '73, PhD '76: Dr. Ordonez has built a dynamic career helping others, specifically those in his native country, the Philippines. Reflecting on his vibrant career, Ordonez emphasizes the importance of understanding management and how to mobilize resources.
Industry: Tech Entrepreneurship & Healthcare
Wellthie
Founder and CEO



Sally Poblete, BS '94

: After 20 years in the healthcare industry, Poblete founded Wellthie to simplify how consumers find, learn about and use their health insurance.

Industry: Entertainment, Media, Technology
A+E Networks
Director, Multiplatform Analytics, Independent Film Producer

Rajat Sharma, MBA/MFA '15: Sharma leverages his MBA education to excel in the entertainment industry, which increasingly leans on data to inform its decisions.