Stern MBA Mentor Program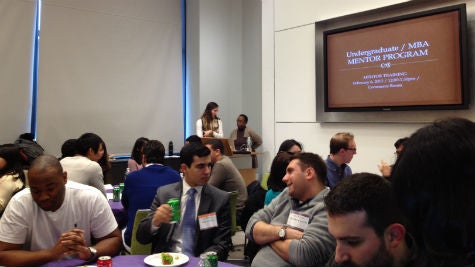 The Stern Mentor Program connects Stern MBA students with Stern undergraduate juniors to provide support and guidance for the undergraduates while allowing MBA students to develop mentorship capabilities. As a mentor, you cultivate skills including personnel management, professional responsibility, leadership articulation and philosophy development, storytelling, and attunement to the importance of coaching and providing feedback. For the undergraduates, the program maintains an opportunity for career exploration and advice, goal setting, and personal and professional enhancement.
The Stern Mentor Program aims to provide a forum for communication across the School. The program is a valuable way to address the leadership core competencies highlighted in your Individual Development Plan. As a mentor, you serve as a generalist career guide and advisor to your mentee and act as a sounding board, rather than an "expert" in the field.
MBA Mentors:
Guide, counsel, and support a Stern undergraduate student.
Provide professional advice and assistance regarding resumes, careers, and interviewing techniques.
Share personal experiences, successes, challenges, and best practices.
Inform student about the latest business trends and corporate developments.
Provide constructive feedback and analysis of strengths and areas for growth.
Minimum Expectations:
Meet with mentee at least twice per semester
Communicate and respond to e-mails regularly
Attend required events, trainings, and meetings
Facilitate relationship professionally and ethically
Provide feedback on experience to the Office of Student Engagement
Attend optional events with mentee (an MBA Club Conference, Stern programming, etc.)
For more information regarding the Stern MBA Mentor Program, contact the
Office of Student Engagement
.