Dan DeVece, MBA 2015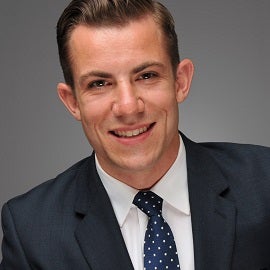 Dan DeVece is a marketing and sales professional working as a consultant at McKinsey & Company. He graduated with his MBA from NYU Stern where he concentrated in Marketing, Strategy, and Finance. He is an expert in brand strategy and purpose, and thrives in integrated marketing environments.

As a student, where was your favorite spot to spend time at Stern?
I I know it's a common answer, but I'd have to say Washington Square Park! It was so inspiring to sit there and do work with all of New York City surrounding you. I also loved spending time with friends at The Malt House on Thompson Street… they have awesome happy hour prices!
What is your favorite way to spend a Saturday?
I enjoy catching up on the news with my husband, and then heading out for a walk with our dog or a jog across the Williamsburg Bridge. In the afternoon, we typically grab brunch with our friends and then head back home to catch some movies on Netflix.
What is your favorite movie?
The most inspirational and profound movie known to man: Finding Nemo! With its soothing ocean themed sounds, it's also nice to fall asleep to.
What is your favorite memory from your time at Stern?
My peers and I took a 10-day trek across Morocco, made possible by the Social Enterprise Association, and it was awesome. As crazy as it sounds, we actually camped out in the Sahara Desert for a night! While in Morocco, we volunteered at an orphanage and played a soccer game with some of the children who lived there. It was such a unique experience and it was even more special because I was able to share it with my close friends from Stern.
Why do you choose to stay engaged with Stern as an alumnus?
Stern has opened so many doors for me, and I want to pay it forward by staying involved and giving back as an alumnus. The Alumni Council has been terrific because it has helped me stay connected to fellow alumni, students, and faculty members – I wouldn't have it any other way!
What quote most inspires you?
"The greatest discovery of all time is that a person can change his future by merely changing his attitude."
~ Oprah Winfrey
---