Academic Bulletin
The New York University Bulletin for the Leonard N. Stern School of Business is a complete guide to Stern policies and procedures. The Bulletin contains a wealth of information, including: curriculum; degree requirements; student life; tuition, fees and financial aid; and more.
For the most up-to-date course information, including course descriptions and prerequisites, refer to the
Course Index
.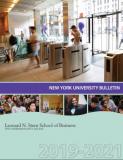 Policies and other academic information are subject to change after the printing of this Bulletin, for the most updated information, please familiarize yourself with the current
academic policies
.